Camper Van Installation Services at Muse & Co. Outdoors
Camper vans have been around for decades, but they have never been as sought after as they are now. Camper van popularity is surging alongside the "#vanlife" movement, which involves turning an ordinary van into a tiny home on wheels.
The main thing that distinguishes van conversions from class B RVs and other camper vans is that they begin with an empty passenger or cargo van, and transform them into off-grid-capable mobile living spaces.
Although converted vans initially gained popularity as part of the Do it Yourself (DIY) movement, there is an entire industry based around high-quality, professional van builds and accessories for van lifers.
Van conversions differentiate themselves from motorhomes by providing more customizability, using higher quality materials, having greater off-grid capability, and of course, by having beautiful, Instagram-worthy interiors.
Keep reading to learn all about camper van conversions, including their benefits, what they usually include, and whether it's better to take on a DIY conversion or hire a professional van conversion company.
What Are The Benefits of a Camper Van Conversion?
If you're considering a camper van conversion, you might be wondering why so many people choose them over small RVs.
Customizability
Van conversions start with the blank canvas of an empty cargo or passenger van. Whether the build-out is a DIY project or is crafted by a professional conversion company, there is endless room for customization in a van conversion.
People who are part of the van life movement love that no two vans are exactly alike. Although there are now large companies that offer cookie-cutter production "van conversion" models, most of these vans use low-quality components and are closer to a small RV than they are to a true conversion van.
Van conversions give you plenty of opportunities to make the space your own. The best vans have lots of character while still providing excellent functionality.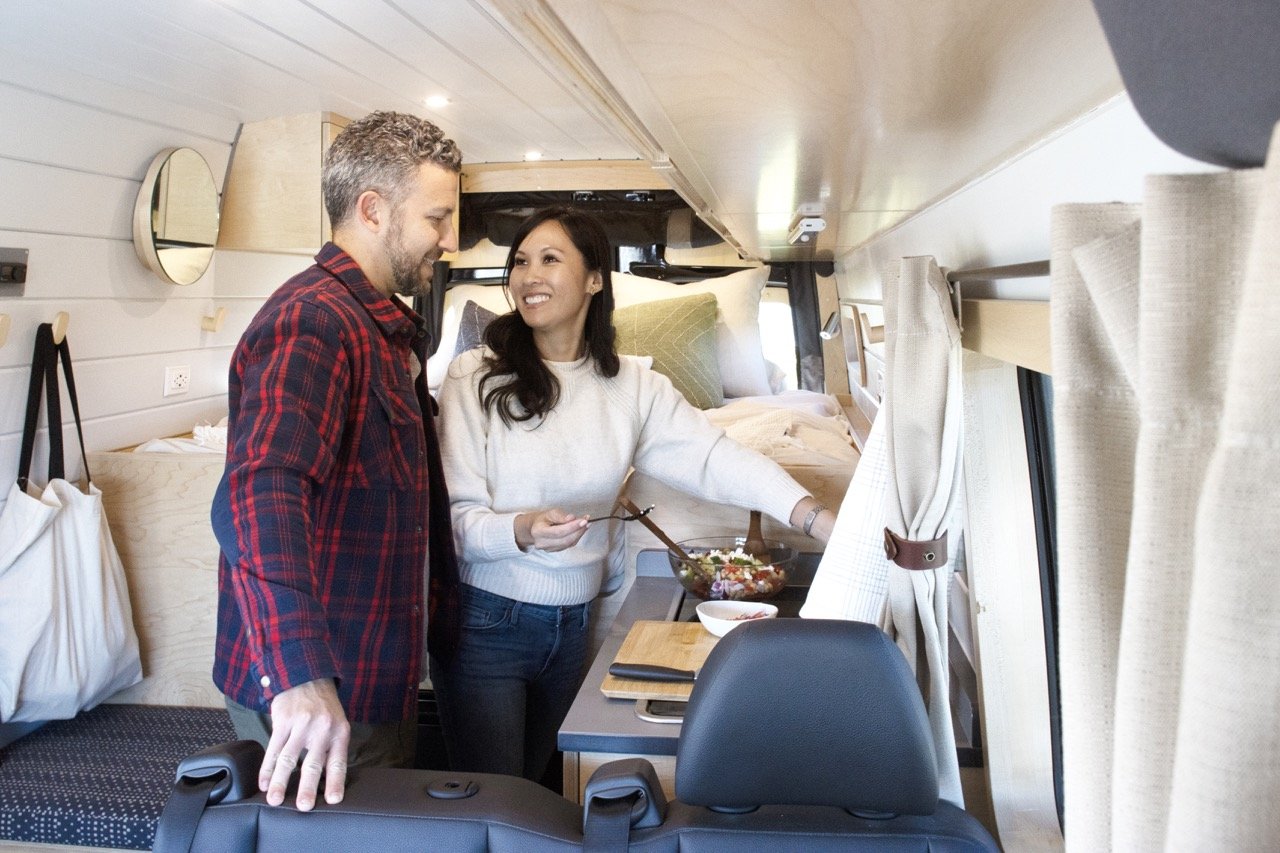 Size/ Maneuverability
If there's one factor that has led to the rise of camper van conversions, it is probably that they are the perfect size. These little vehicles can provide all the amenities and comforts needed to live in them full-time, while being small enough to fit into a standard parking space.
The most popular vehicles to convert are high-top cargo vans or full-size passenger vans such as the Mercedes Sprinter van, Ram Promaster, and Ford Transit. Some people even use smaller minivans or cargo vans like the Ford E-series or Chevy Express to convert into campers.
High-roof cargo vans like the Sprinter provide enough interior space for a kitchen, storage space, a bed, and other desired appliances, as well as additional living space.
Still, these types of vans are highly maneuverable. They are easily driven in city environments, get great gas mileage for their size, and can have impressive off-road capabilities depending on included options and upgrades such as four-wheel drive.
Off-Grid Capability
A major difference between van life and RV cultures is where each user group likes to camp.
People with conversion vans don't usually camp in RV parks where there are hookups and other amenities available.
As such, conversion vans are usually outfitted to allow users to take road trips without needing power, water, or sewer hookups where they camp.
Many camper van builds take this a step farther and by including components like roof racks with solar panels, composting toilets, and large water tanks, all of which allow users to camp in remote areas away from established campgrounds.
The self-enclosed nature of camper vans make them appealing for people who want to get out and camp in remote, wild areas—especially those close to the outdoor activities they love.
Quality
With so many camper van builders and DIY van builds out there today, it's hard to say that camper conversions are universally high-quality.
Still, part of what differentiates custom van builds from production RVs is the use of high-quality materials, excellent craftsmanship, and premium components.
Whether it's the use of solid wood instead of cheap particle board to build shelving, or hand-checking every fitting in the van's water system to ensure there are no leaks—quality and attention to detail are intrinsic to camper van conversions.
What is Included in a Van Conversion?
So, if van conversions are built in compact vehicles with short wheelbases, what do they include? Can camper conversions rival the comforts provided by an RV?
While there are certainly some aspects of van builds that involve compromising amenities for the benefits that come with the smaller vehicle, it's pretty amazing what these little units can fit into such a small space.
Thanks to the ingenuity of builders and the continual improvement of technology used in camper vans, they can fit an impressive amount of creature comforts and amenities.
Kitchen
Think of your kitchen at home. What are its major components? A stove, sink with running water, fridge, cabinet space for food and utensils, and counter space for preparing food are the first things that come to mind.
Camper van conversions can fit all of those components into a compact but functional design. The ability to easily and quickly prepare healthy and delicious meals while on the road is part of what makes traveling in a camper van so much better than camping.
Bathroom
Bathrooms in camper vans vary a lot. Some vans include a full wet bath with an indoor toilet and hot shower. Others have no bathroom at all.
For most van users, it's ideal to find a middle ground between a bathroom that takes up too much space and resources like water and electricity, and having no bathroom at all.
Common toilet solutions for camper van conversions are composting or cassette toilets. These small toilets are entirely self-enclosed, require no holding tanks, and can store away inside a small cabinet.
When it comes to showers for camper vans, there are several options. The Yakima RoadShower is a favorite among van owners because it allows for hot outdoor showers but requires no electrical or propane usage, and sources water from its own externally-mounted tank.
Electrical
Many of the amenities that make camper van living so great require electricity. But with no guarantee of camping somewhere with an electrical hook-up, conversion vans have unique requirements when it comes to their electrical systems.
Camper van electrical systems need to be able to charge devices and power components like a fridge, lights, vent fans, an inverter, and more.
To accomplish this, they must have batteries that can hold charge and power devices, and a method of charging them that does not require plugging in.
The best combination to accomplish this task is a lithium battery bank paired with solar panels.
The van life movement has changed the way that people camp by making solar charging popular among travelers. As technology continues to improve, camper vans are capable of housing more and more robust power systems.
Living Space
The most essential job of any camper van conversion is to provide a comfortable living space to relax and decompress in after a long day spent outside.
Believe it or not, many conversion van layouts allow for a full or queen-size bed, along with all of the other major amenities found in camper vans!
In addition to a large and comfortable bed to sleep in, camper vans often include seating and even desk/table space. Solutions like swiveling passenger and/or drivers seats allow for seating in camper vans without taking up additional floor space.
DIY Van Conversion vs. Professional Build: Which is Better?
DIY conversion vans may have started the van life movement, but professional conversion companies have elevated it to the level of popularity it holds today.
The choice of whether to take on a DIY camper van build or hire a professional company comes down to how much time you have on your hands, your budget, and your level of expertise.
Although endless resources can be found online detailing how to convert a camper van, this is a project that should not be taken lightly.
DIY builders will need to be well-versed in a wide range of skills, from building 12V electrical systems, to plumbing, to finish carpentry.
For people who have these skills and the large amount of time required to plan and execute a DIY van build, this option can save some money upfront and be a rewarding project to take on.
For everyone else, professional van conversion companies offer a great way to have the van of your dreams with plenty of room for customization, without the headache or time required by a DIY build.
If you are looking for camper van conversions in California, look no further than Muse & Co. Outdoors. Muse Outdoors offers craftsman, semi-custom camper conversions with no compromise on the quality of materials or the build practices used.
Our gorgeous camper van interiors are built to last the life of the van itself. To learn more, use our Build My Van tool to explore your options and visualize the van of your dreams.
>