Camper Van Installation Services at Muse & Co. Outdoors
Muse & Co. Outdoors is happy to announce that we are now providing installation services for people who need a little help with their DIY van builds.
A camper van buildout is a huge project, requiring a wide range of expertise and tools. Carpentry, 12V electrical know-how, plumbing, and even metal work are all requisite skills when building out a Sprinter van.
Sometimes, DIY builders encounter a "project within the project" that seems a little too daunting to take on alone.
Whether you need to cut a large opening in your van to install a window, need help installing a complex system such as a heater, or want to have some accessories mounted to the exterior of your van, Muse & CO. Outdoors can help!
What Kind of Parts Does Muse & Co. Outdoors Install?
Muse & Co. Outdoors can install a wide range of parts and accessories to your DIY Sprinter van build.
Some common parts that we install on vans include:
Windows
Seats
Seat swivels
Roof fans
Air conditioning units
Heaters
Suspension upgrades
Wheels and tires
Roof racks
Off-road bumpers, winches, and other accessories
Rear door add-ons like tire carriers, ladders, and bike racks
Awnings
Exterior lighting
…and more!
If you have a part you want installed on your van, and you don't see it on this list, just give us a call! Our shop is well-equipped for all van-related projects and our team of builders has the know-how to install just about anything you could think of in a camper van build.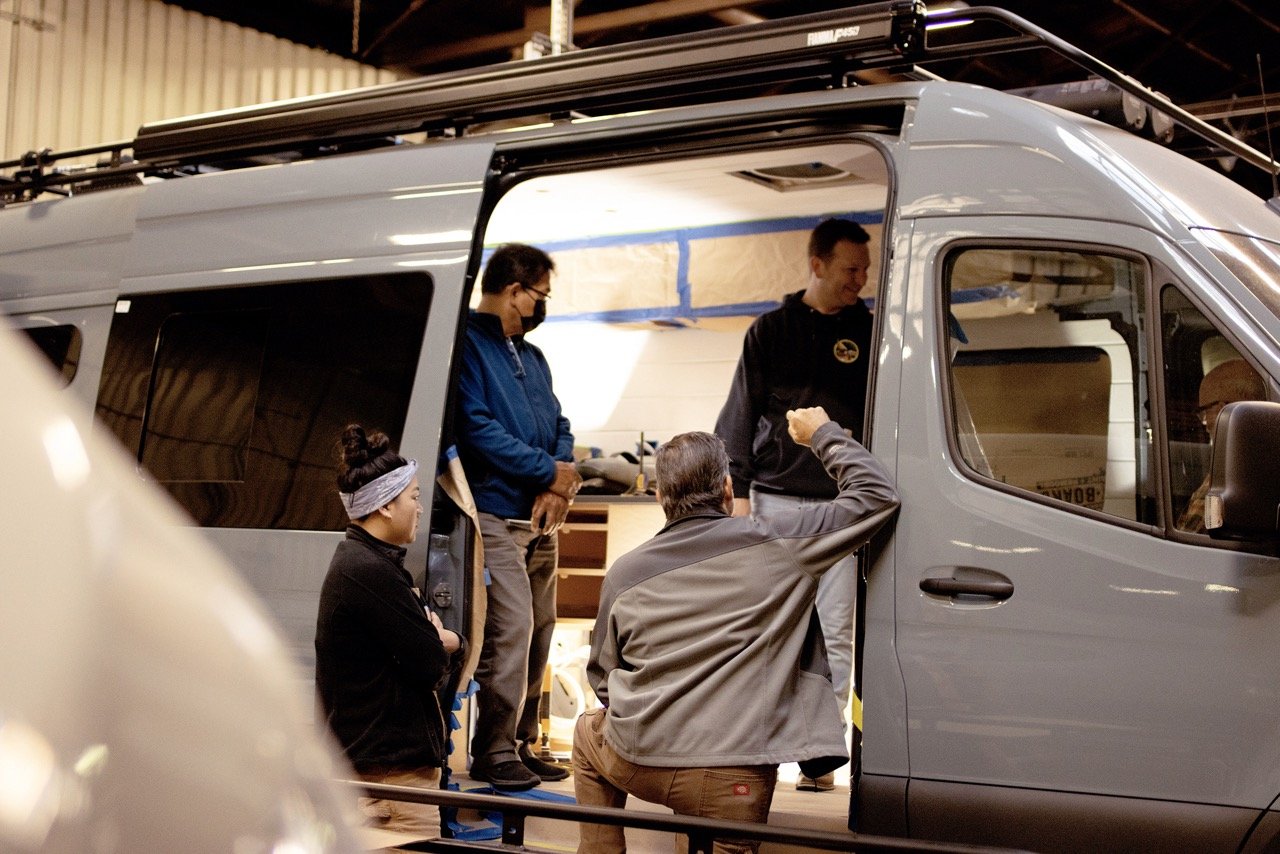 Why Choose a Professional Installer for Certain Projects?
We get it—you chose to build your van yourself, and you want the project to be yours. But sometimes, doing it yourself means uncertainty as to whether you are going to make a major error that results in damage to your van, safety concerns, or longevity issues.
Below you will find some examples of projects and reasoning for why people often opt to go with a professional installer for these aspects of their van builds.
High-Risk Projects
Sometimes, the consequences of messing up a project on your van are too great to risk doing it yourself.
Every DIY builder eventually encounters the "I'm about to cut a giant hole in my van" moment. Whether it's a roof fan, an AC unit, windows, or even ducting for a heater, there are some projects where you really only get one chance to do it right.
Hiring a professional parts installer like Muse & Co. Outdoors gives you peace of mind that these high-risk projects are going to be completed with precision. The old adage "Do it once, do it right" certainly applies to these projects. We use the highest quality sealants and tools to ensure that our installations will last for years without issue.
Safety Concerns
Other times, a project may seem relatively straightforward—but getting it wrong could have dire consequences.
Heaters, for example, must be properly vented to the outside of the van, and all electrical and gas connections must be perfect—or the risk of toxic carbon monoxide build-up or fire becomes an issue.
Other parts installed on the chassis of the van itself, such as suspension upgrades, wheels, and tires, all play a major role in the safe operation of the van.
Muse & Co. Outdoors installs all parts in accordance with the highest standards to ensure that no safety concerns arise as you use the van.
Efficiency
A van build is a massive undertaking, and no matter how well you plan the project, things always end up taking longer than you would have hoped.
Sometimes, life and work get in the way of moving along with the project as quickly as you want to. In these instances, it can be great to have a professional take care of some of your build while you take care of the other aspects of life.
Can Muse & Co. Outdoors Provide Parts for Installation?
Absolutely! If you already have the parts needed for an installation, we are happy to work with those. Or, if you need parts, we have lots of basics in stock and we work closely with many suppliers so we can get you what you need quickly and easily.
Contact Muse & Co. Outdoors today to learn more about the services we offer and chat with a specialist about installations on your camper van.