How Much Do Camper Vans Cost? The Average Price of Van Life
Camper vans today are not what they used to be. A camper van no longer means tossing a mattress, camp stove, and a jug of water inside of an old minivan and hitting the road.
Today, the world of camper vans is about converting large high-roof cargo vans into tiny homes on wheels with all the comforts needed to live in them full-time.
Camper vans today aren't cheap. High-end brand new camper vans can cost between $200,000 and $300,000, including the van build and the van itself. Older, used vans may cost $25,000 or less but include far fewer amenities and comforts. DIY van conversions tend to cost between $10,000 and $50,000 not including the van itself, depending on materials used and components included.
This article will take a deep dive into camper van prices, exploring how much different vans cost and what you should consider before buying a camper van for sale.
The Average Cost of a New Camper Van
New camper vans with a brand new professional build-out tend to cost between $130,000 and $300,000. Let's take a look at some of the factors that go into the price of a new class B RV (aka, camper van!):
The van itself: The van itself is a major factor in overall camper van cost. The most common vans to convert into campers are the Ford Transit, Ram Promaster, and Mercedes Sprinter. The Promaster tends to be the cheapest (and also the lowest quality), followed by the Transit and then the Sprinter, which is the most expensive option. Most of the best camper vans are built on the Sprinter van chassis, as these vans feature the best reliability, fuel economy, and overall performance.
Build quality and customization: Even when the same van base is used, costs between conversion companies can vary greatly. Some companies offer higher-quality builds with better workmanship. It's important to remember that all camper van builders do not use quality materials or excellent building practices. A high-quality van build is meant to last the life of the van itself. Furthermore, fully custom builds will always be more expensive than cookie-cutter production van models.
Materials and components: High-quality materials, from insulation to the wood used in cabinets, will cost more than cheap materials that are less durable and perform worse. Furthermore, each component included in a van build—whether it be the roof rack, the solar panels, or the propane system—tends to have multiple options with some that are cheaper and some that are more pricey.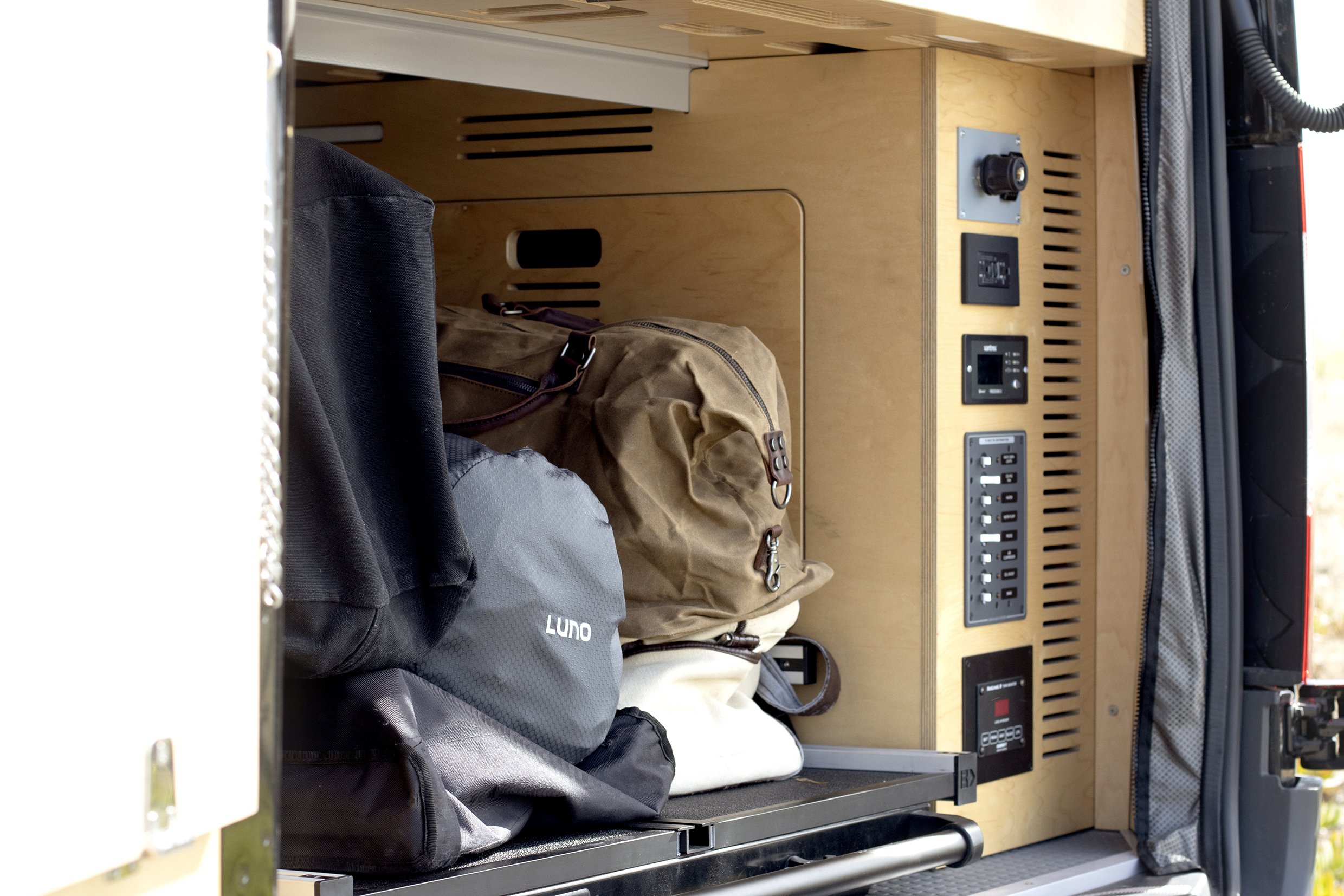 The Average Cost of a Used Camper Van
Buying a used camper van might be a good option for someone looking to pay less than full price, but it depends on what type of van they're looking to buy.
The cost of a used camper van can vary greatly, with older options available for $25,000 or less, and newer, professionally-built used vans clocking in close to their original full price.
The same factors, including the van itself, the quality of the materials, and the build quality, will affect the price of a used van.
The Mercedes-Benz Sprinter is known for holding its value extremely well, so you won't get as big of a discount on this van as you might with other vans if you buy one used.
Another cost factor when it comes to buying used is that since camper vans are in such high demand, many van builders have long waiting lists, sometimes asking customers to wait several months or more for their conversion van.
Because of these wait lists, it is not uncommon to see used conversion vans being sold for as much or more than they would cost new! This is especially true when the vans have rare but desirable qualities like four wheel-drive and off-road capabilities.
The Average Cost of a DIY Camper Van Conversion
DIY van conversions cost between $10,000 and $50,000, excluding the van itself. Of course, this does not factor in the hidden costs of all the time and effort spent on the build.
If someone is converting a small camper van like the Dodge Promaster City or the Mercedes Metris, material costs are likely to be on the lower end.
Larger cargo and passenger vans like Sprinters will usually require more materials and a greater investment by DIY builders.
For those who have expertise in a variety of skillsets and want full control over their van build, a DIY conversion may be a good option and a way to save money.
New vs. Used vs. DIY Camper Vans: Which Option is Best?
Camper vans are a big investment, so people thinking about this purchase will undoubtedly be considering cost and weighing their various options.
The bottom line about camper van cost is: The definition of a "good deal" will change based on who you are, how you plan on using your van, and whether you plan on selling your van anytime soon.
Here are some of the most important considerations when choosing between a new, used, or DIY van conversion:
DIY van builds miss out on some of the benefits of professional builds, including warranties on the build itself, the ability to easily insure the van for its full value as a camper, and the peace of mind that comes with getting a van from a professional builder. DIY builds do not hold their value as well as professional van conversions.
Some van builders charge a premium for fully custom conversions, but others use their brand's reputation as a way to charge more for cookie-cutter builds with cheap materials and machined parts rather than hand-built quality. Whether buying a used or new van, look for vans built by companies with a reputation for craftsmanship and verifiable quality.
There are ways to make your camper van pay for itself. Some rental companies like Outdoorsy allow van owners to rent out their vans to people looking for a little more luxury at their campground. New Sprinter van conversions can go for upwards of $150/night!
Off-road camper vans will always cost a premium. These vans are in high demand. Models like the Winnebago Revel, Sportsmobiles, and Storyteller Overland vans are examples of vans advertised as being off-road capable that carry a higher price tag.
Best Camper Van Conversions in California
Are you looking for a camper van conversion company in California? Muse & Co. Outdoors in Oakland, CA offers semi-customizable, craftsman van builds for all Mercedes Sprinter models. Head to our Build My Van page to learn more about our different models and options!