5 Best Vans For a Camper Van Conversion
The most important part of any camper van conversion is the van itself.
The rise of van life has helped push many automakers to start selling high-roof cargo vans in the U.S., a style of vehicle that was previously mainly seen in Europe with models like the Fiat Ducato, Volkswagen Crafter, and Renault Master.
High-roof cargo vans are perfect bases for van builds, as the cargo area provides enough height to stand up in and plenty of space for all the amenities needed for full-time living.
Choosing the best van for a camper conversion might seem daunting. In general, you should base your decision on the following factors:
Cargo Space: Figure out how much room you need, and choose a van with enough interior space for all the amenities you want in your conversion!
Reliability: You're likely to be taking your van to some beautiful and remote places, so making sure that the vehicle is up to the task is a huge deal. Reliability can mean the difference between a ruined road trip or the time of your life, and reliable vans can pay for themselves in avoided repair jobs.
Fuel Efficiency: Fuel efficiency has never been a more important consideration for camper van owners. With record fuel prices, a fuel-efficient van can save you significant amounts of money over time.
Cost: Cargo vans vary greatly in quality and included features, and their price tags reflect these differences. You'll pay a premium for the best vans, but it might be worth it in the long run when considering reliability, fuel efficiency, and resale value.
Drivetrain: Off-road camper vans are becoming more popular, for good reason: Getting to remote campsites and trailheads is easy with a 4×4 van. It's important to know whether you want a 4×4, all-wheel drive, or two-wheel drive van.
With these considerations in mind, we have compared some of the most popular vans for camper conversions and determined which vans are best. Keep reading to learn about the best vans for camper conversions!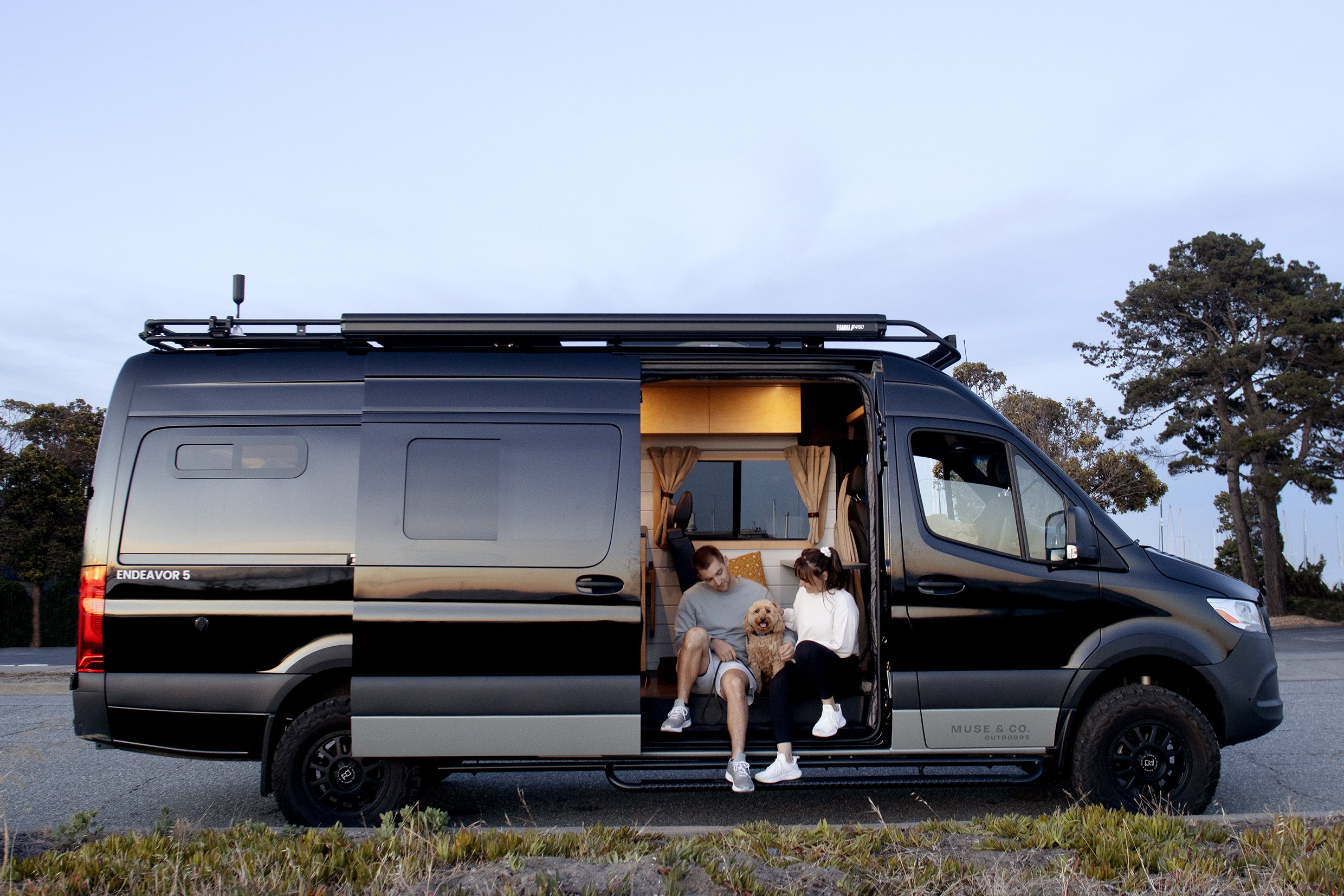 1. Mercedes Sprinter
The Mercedes Sprinter van is the gold standard when it comes to candidates for a camper conversion's base vehicle.
In fact, Sprinters have become so synonymous with van life that many people simply refer to converted vans as "Sprinter van conversions", whether or not the van is a Mercedes-Benz Sprinter.
The Sprinter receives top marks in nearly every category, from gas mileage, to build quality, to the legendary reliability of its diesel engines.
Pros of the Mercedes Sprinter include:
Great fuel economy
Best-in-class reliability (diesel engines regularly top 500,000 miles)
Optional 4×4
Multiple options for roof height, and different lengths/wheelbases
Unparelleled build quality
Lots of included comfort and safety features with options for more
Excellent resale value
It's hard to find many cons for the Sprinter, although cost is certainly a consideration. The Mercedes Sprinter offers the best quality of any van on the U.S. market, but it also comes with the highest price tag.
2. Ford Transit
After ceasing production of their legendary E-series Econoline vans in 2014, Ford introduced a new line of cargo and passenger vans, the Transit lineup.
The Ford Transit has quickly become one of the top options for professional and DIY camper van builds.
Ford began making an all-wheel drive (AWD) model of the Transit in 2020. While AWD provides greatly improved traction over the standard 2WD models, it is not as capable as the Sprinter's 4×4 system in true off-road scenarios.
Pros of the Ford Transit include:
Solid reliability
Optional AWD
Multiple roof height and wheelbase options
High roof Ford Transit has 81 inches of interior headroom, the most of any van
EcoBoost models boast impressive gas mileage
Ford Transit cons include:
Some build quality issues
Low ground clearance compared to Sprinter
No option for 4×4
Lower reliability scores than Sprinter
The Transit is a solid choice for many DIY van builders, but there is a reason why most professional conversion companies prefer the Mercedes Sprinter. Although the Transit has a lower price tag, its build quality, available features, and reputation for reliability are no match for the Sprinter.
3. Dodge Ram Promaster
One year before Ford entered the high-roof van market, in 2014, Dodge came out with a new van of their own to compete with the Sprinter.
The Dodge Promaster is Ram's new line of full-size cargo vans. Both high-roof and low-roof models are available, as well as multiple lengths.
The Promaster is a favorite among DIY builders because its interior is more square than that of other high-roof vans, making for simpler upgrades for less experienced carpenters and builders.
Although the shape of the living space is advantageous for build outs, the Promaster has several issues that make it the lowest-ranked high-roof cargo van on our list.
Pros of the Ram Promaster include:
Widest van on this list; easier to fit a horizontal bed set-up
Box-like interior makes some build-out jobs easier
Most affordable high-roof cargo van, (both new and used models)
Widely available at dealerships (Sprinters and Transits sometimes have waiting lists)
Cons of the Ram Promaster include:
Only offered in front-wheel drive
Very poor ground clearance
Commonly reported for quality issues
Older models have lower resale value
4. Mercedes-Benz Metris (Best Small Van)
Camper van conversions can come in all different shapes and sizes. Some people are simply looking for a small vehicle with a sleeping area and some storage space.
The advantages of small camper vans are that they are more maneuverable in city environments, they get better gas mileage, and their repair costs are lower.
Common small cargo vans used for van builds include the Ford Transit Connect, Ram Promaster City, and Mercedes-Benz Metris.
Of these three popular models, the Mercedes Benz Metris is the best small van for camper conversions.
Like the Sprinter van, the Metris leads its class of compact cargo vans in many categories, including reliability, luxury and safety features, and more. The Metris even comes with an available pop-top and folding rear seats, primed for a van conversion.
5. Chevy Express (Best Low-Roof Cargo Van)
While other low-roof cargo van lines like the Ford E-series have been replaced with the newer, more popular high-roof vans, Chevrolet's Express cargo and passenger vans have stood the test of time.
In production since 1995, the Express is known for its powerful V8 engine option. More recently, Chevy started offering the Express with an inline-4 turbodiesel engine, giving it a dramatic boost in fuel efficiency.
For those who don't need the standing room of a high-roof van, the Chevy Express is a reliable, no-frills option.
Used van seekers should look for a model with Chevrolet's durable v8 engines, while people looking at a new Express should consider the I4 turbodiesel engine for its great fuel efficiency.
Although the Express is at the top of our list for full-size low-roof vans, it pales in comparison to the Sprinter when considering reliability, build quality, and available options.
What is the Best Van Conversion Company?
Are you looking for a professional van conversion company to turn a basic cargo van into your dream rig? With so many new builders and conversion kits out there, it can be tough to know where to turn.
When it comes to van conversion companies in California, Muse & Co. Outdoors is leading the way.
Muse & Co. Outdoors offers luxury, semi-customizable van conversions on the Mercedes Sprinter platform. We build our vans using the highest quality materials and practices to create craftsman vans that will last the lifetime of the reliable Sprinter.
Head to our Build My Van tool to learn more about our models and explore your options for customization!