What Is a Class B RV? Class B RVs vs. Camper Vans
Camper vans are more popular today than ever before. There are lots of DIY and professionally built vans on the road, using a variety of vehicle chassis including the Mercedes Sprinter, Ford Transit, and Ram Promaster.
When researching camper vans, you might see many terms floating around for similar-looking vehicles, including "Sprinter van", "Class B RV", "Class B motorhome", "van conversion", or "Class B camper van".
All of these vehicles provide a built-in living space on a van chassis that is significantly smaller than other recreational vehicles.
Still, there can be some differences between these terms and it is important to understand what each term means when shopping for a new camper van or small RV.
Definition of a Class B RV
Class B RVs are the smallest type of motorhome. They are vehicles that have been built from the ground up with the intention of being used as recreational vehicles. They include amenities like a dinette, sleeping area, small bathroom, holding tanks for water, and a power system. Usually, Class B RVs are built on high-roof van chassis.
The smaller size of of Class B motorhomes gives them many advantages over the larger classes. They get better gas mileage and are much more capable off-road.
Class B RVs are also better for boondocking, or remote camping away from established campsites. For this purpose, they are usually equipped with solar panels and lithium battery systems so they do not have to rely on hookups.
Though small, Class B RVs are able to include many of the amenities of larger RVs and still have an impressive amount of storage space. Many Class Bs even have a queen-sized bed.
Class B RV vs. Class A or Class C RV
Class B RVs are much smaller than both Class A motorhomes and Class C motorhomes. Class A is the largest size of RV, followed by Class C, with Class B being the smallest.
Class A motorhomes are large, usually between 29 and 45 feet in length, and include many comforts of home including separate bedrooms, full wet baths, and plenty of living space.
Class C motorhomes are a bit of a compromise between Class A and Class B. They have better fuel economy than Class A motorhomes and are more maneuverable, but they lack some of the space and amenities as well.
RVers who want a more fuel-efficient option or who want a type of RV that doesn't need special storage might opt for a Class B instead of a larger option.
Class B RVs are also great for people who like to get off the beaten path and explore dirt roads and other remote areas. While small, the floor plans of Class B vans still allow for everything needed to live in them full-time.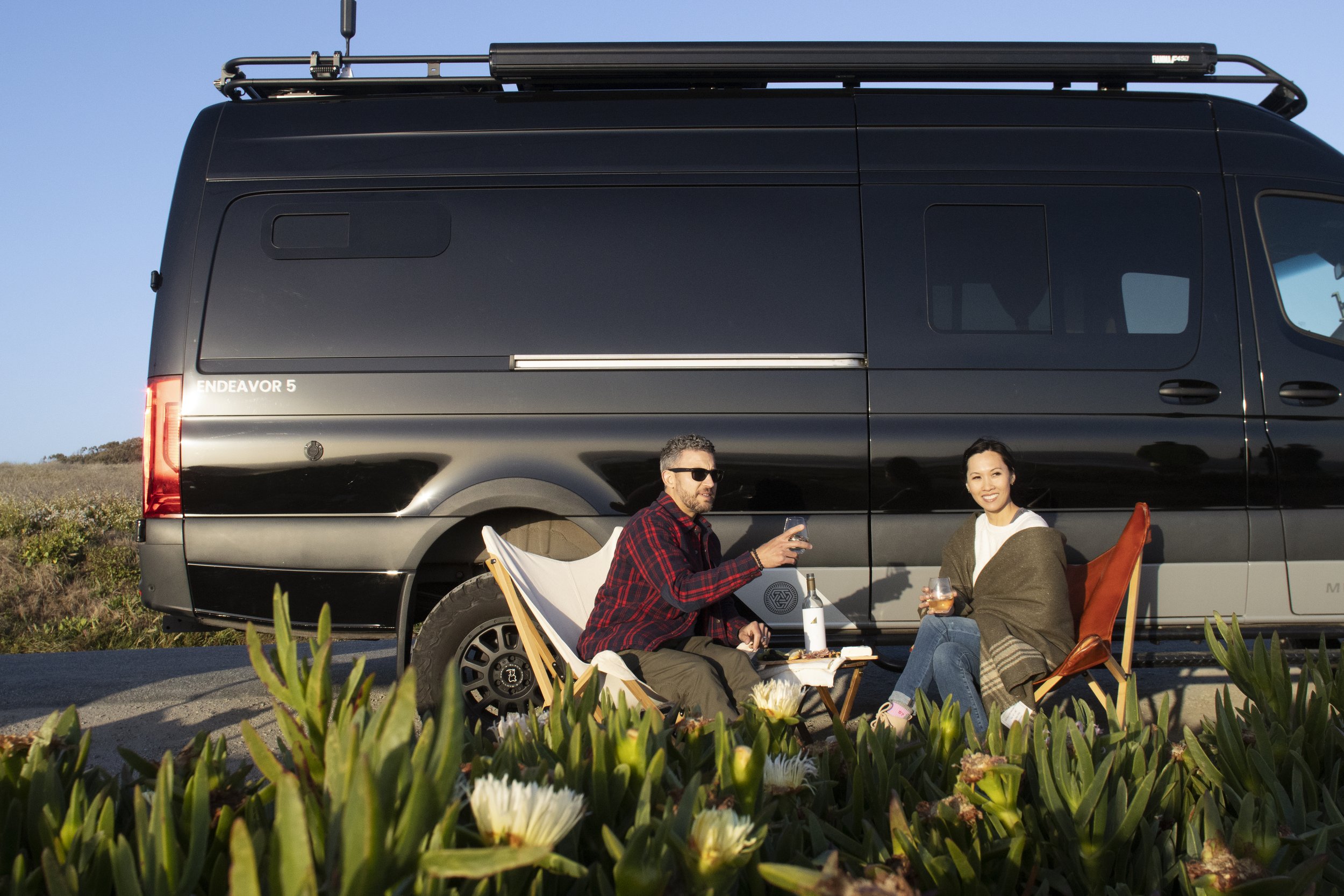 What is the Difference Between Class B RVs and Camper Vans?
Class B RVs are built from the ground up for the purpose of being recreational vehicles, while camper vans or "conversion vans" are cargo or passenger vans that are converted into campers.
It can get confusing trying to distinguish between a Class B RV and a camper van, and the truth is, they are very similar. As the RV industry catches on to the #vanlife trend, they are producing and selling more Class B camper vans and fewer larger motor coaches.
RVing culture and that of the van life movement are quite different. While some large RV manufacturers, such as Winnebago, do make Class B RVs that are quite similar to conversion vans, most of these cookie-cutter models lack the character and attention to detail that camper vans are known for.
A great middle ground between a cookie-cutter production "small RV" and a DIY conversion van is to have your Sprinter van professionally built out by a small but reputable van conversion company.
Van conversion companies like Muse & Co. Outdoors bring years of expertise to the table and are able to work closely with their customers to build them their dream camper van.
Whether you are looking for an off-road capable 4×4 rig, a camper van for you and your family, or a luxurious Sprinter van that is more nimble than your current RV, Muse & Co. Outdoors can help you make your van life dreams a reality.
Check out our Build My Van tool to learn more about our models and explore your options!