Van Life With a Dog: Road Trip Tips for Dog-Friendly Campervan Travel
Van life with dogs can be great, but it also comes with its challenges. You'd do anything for your furry friends, so naturally, you want to take them with you on your camper van road trips.
It's totally possible to travel comfortably in a van with your dog, but the more prepared you are, the happier you and your best friend will be.
Some van dwellers live full-time in their vans with their pups. Knowing where to camp, how to set up your van, and what to bring can be very helpful if you plan on taking camper van road trips with your dog.
Keep reading to learn our top tips on traveling in a van with your dog!
Where to Camp With a Dog in Your Van
You might love camping with your dog, but that doesn't mean everyone else will welcome your pup. Dog owners need to have a good understanding of where their dogs are and are not allowed to be.
Camping in National Parks With a Dog
National parks have strict restrictions when it comes to dogs. Most parks do not allow dogs out of paved areas and campgrounds, and dogs are almost always required to be on a leash within park boundaries.
While it's not impossible to enjoy a trip to a national park with your dog, you will probably have to make some compromises on what activities you plan on doing, since dogs aren't allowed in most areas or on most trails within national parks.
If the weather is cool, you may be able to leave your dog in your van safely for a few hours. As long as you can keep your dog cool and they have access to a water bowl, they should be okay for a short period of time in the van.
Of course, if you plan on leaving your dog in the van for more than a few minutes, make sure to turn on the vent fan, put up window covers, and park in the shade. Never leave your dog in the van on hot days.
Dispersed Camping With a Dog
Dispersed camping, or camping outside of an established campground, is allowed on many public lands, including BLM land and in most national forests.
Dispersed camping in a van is a great way to get away from the hustle and bustle of campgrounds and enjoy some secluded time in nature.
It's also an ideal way to camp if you are bringing your dog along, as most areas where dispersed camping is allowed are great for letting your dog off-leash.
After long drives, there's no doubt that your pup will want to get out of the small space of the van and move his legs a bit. Camping in a remote area allows your dog to roam free and enjoy himself.
Camping in RV Parks and Campgrounds With a Dog
Many RV parks and campgrounds allow dogs. Restrictions vary with each campground, so be sure to double-check before making a reservation.
Most RV parks and campgrounds require dogs to be on a leash, though particularly dog-friendly ones may have a dog park or a large fenced-in kennel where you can let your pup off-leash.
Top 5 Essentials for Van Life With a Dog
Knowing where to camp is an important piece of van life with a dog, but it's not everything. Having the right gear can make a world of difference, too. Below you'll find a list of the top 5 van life essentials that we can't live without when traveling with our pups:
Indoor/Outdoor Dog Bed
A dog bed is a must when van camping with your pup. Your dog needs a comfortable place to rest and you need to keep him off your bed to avoid too much hair and dirt making its way under the covers.
We recommend bringing a dog bed that is designed to be used outdoors and can be easily shaken off. When parked at a campsite, it's nice for your dog to have somewhere comfortable to lay down outside the van. Using the same bed when it's nighttime saves space.
Sealable Dog Bowls
Sprinter van owners move around a lot. Whether taking pit stops in the middle of long car rides or camping at a new spot every night, the ability to pack up and go quickly is part of what makes van life so appealing.
Your dog food and water bowls should be able to quickly pack up and go just like the rest of your van's gear. Using bowls that are easily sealable avoids mess while traveling and makes packing up a breeze.
Extra Long Leash
Sometimes you'll find yourself in areas with plenty of space for your pup to roam, but not enough to let him off leash.
Whether you're in a campground with a leash requirement or at a nice spot that's a bit too close to the road, having an extra long leash can give you peace of mind and keep your dog safe while allowing him to explore.
Handheld Vacuum
Anyone who has spent time in a campervan knows how quickly things can get messy. In such a small space, dirt builds up quickly on the floor and in nooks and crannies.
Add a dog to the equation, and the mess gets exponentially worse. A rechargeable handheld vacuum is a great way to keep the dog hair at bay.
Seat Covers
If your dogs like to hang out on the front seats, seat covers are a must to protect the fabric and make cleaning the van easier.
Waterproof and washable seat covers are great for handling the mess of dogs, and they're especially necessary if you let your pup ride in the passenger seat.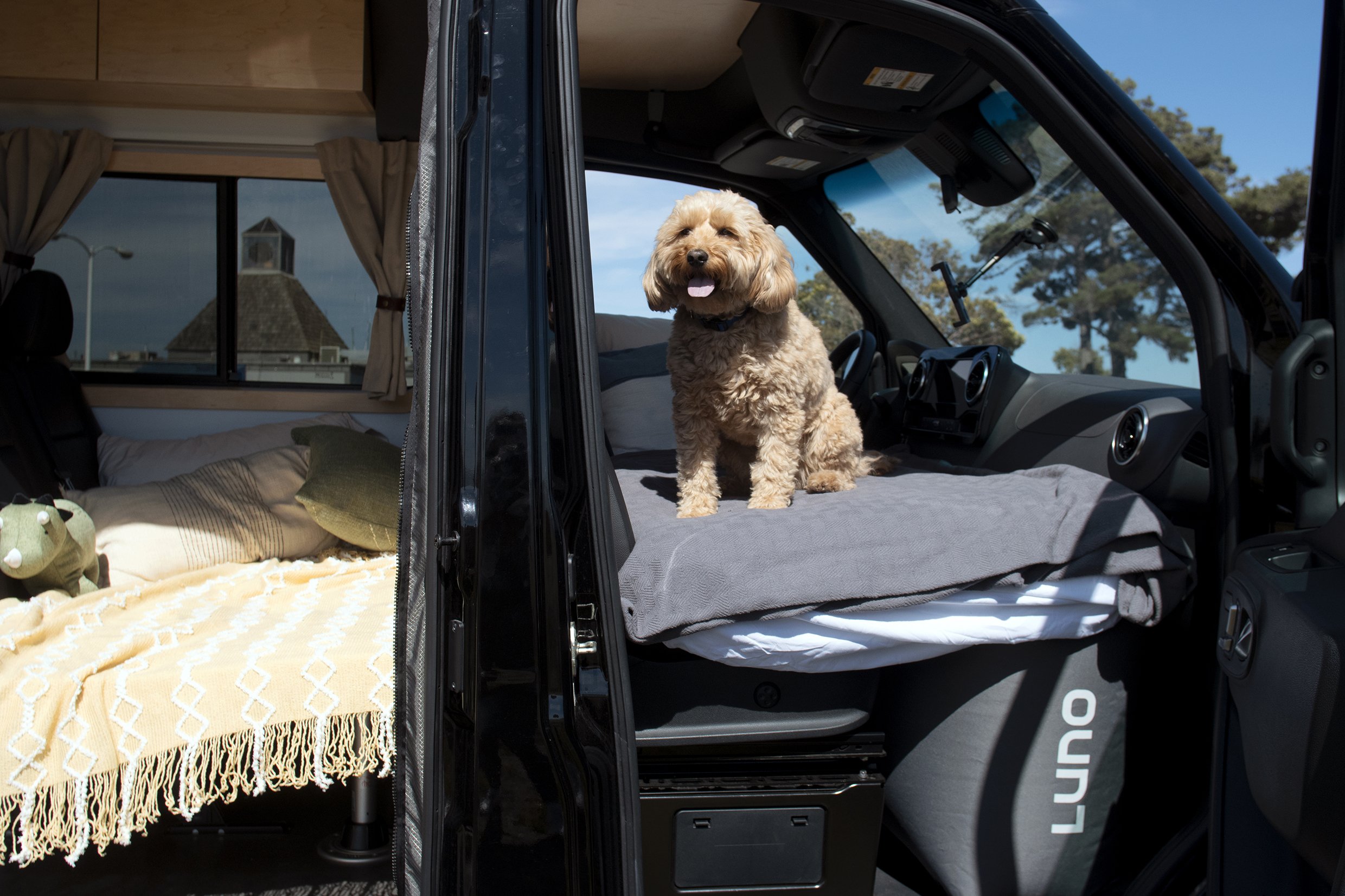 Other Tips and Tricks for Traveling in a Campervan With a Dog
Bringing the right gear and camping in dog-friendly locations will go a long way towards making your campervan travels with your dog fun and relaxing.
Still, there are also some tips and tricks to keep in mind which can help out when you bring your pup on the road:
Bring Vaccination Records
Believe it or not, some campgrounds and RV parks require hard copies of your dog's vaccination records to permit them to enter.
Vaccination records are also required when crossing national borders, so keep that in mind if you plan on traveling to Canada, Mexico, or beyond.
Keep a copy of these records in your van with your other papers like registration and insurance information.
Pick a Food You Can Find Anywhere
Dogs can get upset stomachs if you switch their food. If you are traveling for an extended period of time, it's important to choose a dog food that is available at most pet stores so you can avoid having to suddenly switch your pup's food.
Use Rover in a Pinch
Rover is a platform that allows you to connect with pet sitters and doggie daycares across the country.
If you're on an extended road trip and you want to go somewhere without your dog for a few days, Rover is a great way to find reliable sitters for your pup.
Plan Your Van With Your Dog in Mind
Whether you are taking on a DIY van build or looking for a professional van conversion company, make sure to consider your dog when thinking about your ideal van setup.
Things like durable flooring, an open layout, and easily cleanable materials can make van life with a dog much more enjoyable.
Are you looking for a van to travel in with your furry friends? Muse & Co. Outdoors offers Sprinter van conversions in the San Franciso Bay Area of Northern California.
Our vans are semi-customizable and are constructed with the highest quality materials and components. We have builds that are perfect for solo travelers, couples, families, and of course—for those traveling with their pups!
Head to our Build My Van tool to learn more about our vans and explore your options.