5 Tips for Keeping Your Camper Van Cool During Summer Van Life
The summer months can be a great time for camper van road trips, but hot weather can also be challenging when camping.
Keeping cool in a camper van during summer is possible, you just need to know what to do and what gear to bring along.
Whether you're a full-time van lifer or just looking to get away for a weekend during the hot summer months, use these tips to keep your van cool.
1. Stick to the Mountains and the Coast
The best way to stay cool in a camper van during summer? Avoid hot weather.
If you are planning a summer road trip in your Sprinter van conversion, especially in the western half of the country, choose areas that are high-elevation or near the Pacific coast.
While the rest of the tips in this article can go a long way towards making hot weather travel in your van more comfortable, you are still going to be somewhat exposed to the elements when camping.
Areas along the pacific coast and above 5,000 feet or so in elevation stay significantly cooler during the summer.
f you do have to camp somewhere where the weather is super hot, choosing campsites near water can allow you to at least beat the summer heat by swimming during the hottest hours of the day.
2. Maximize Airflow
For most camper van setups, getting airflow is the best way to keep the inside of your van comfortable on hot days and nights.
The most common way to get airflow in a van build is to add one or two roof vent fans such as the Maxxair fan models. These powered fans work off of your van's electrical system, which is usually powered by solar panels on the roof.
When the sun is high in the sky during the summer, you should have no problem running your vent fan on high all day and night.
Roof vent fans are designed to push air into the van or pull it out. For sleeping on warm nights, one of the best setups is to open up side windows near your bed and set your roof fan to pull air out of the van. This will create a steady breeze coming in through the windows near your bed.
Van dwellers can also get lots of airflow in their living spaces by keeping the doors open while hanging out inside. Of course, summertime is also mosquito time in many areas of the country, which may discourage van owners from taking this route.
Fortunately, some third-party companies make custom-fit bug screens for Sprinter vans which allow you to have your doors open without allowing pests in.
3. Install an Awning
Sometimes all that is needed to make hot summer days enjoyable is a little sunshade. Awnings that attach to the side of your van or to a roof rack are a great way to extend the living space of your rig and create a nice shady area to enjoy warm weather under.
Depending on the sun angle, deploying your awning can sometimes help shade the van itself, keeping the temperature cooler inside.
Awnings also create a nice area in which you can cook outside, which is likely to be much more appealing on hot evenings that cooking inside of your van.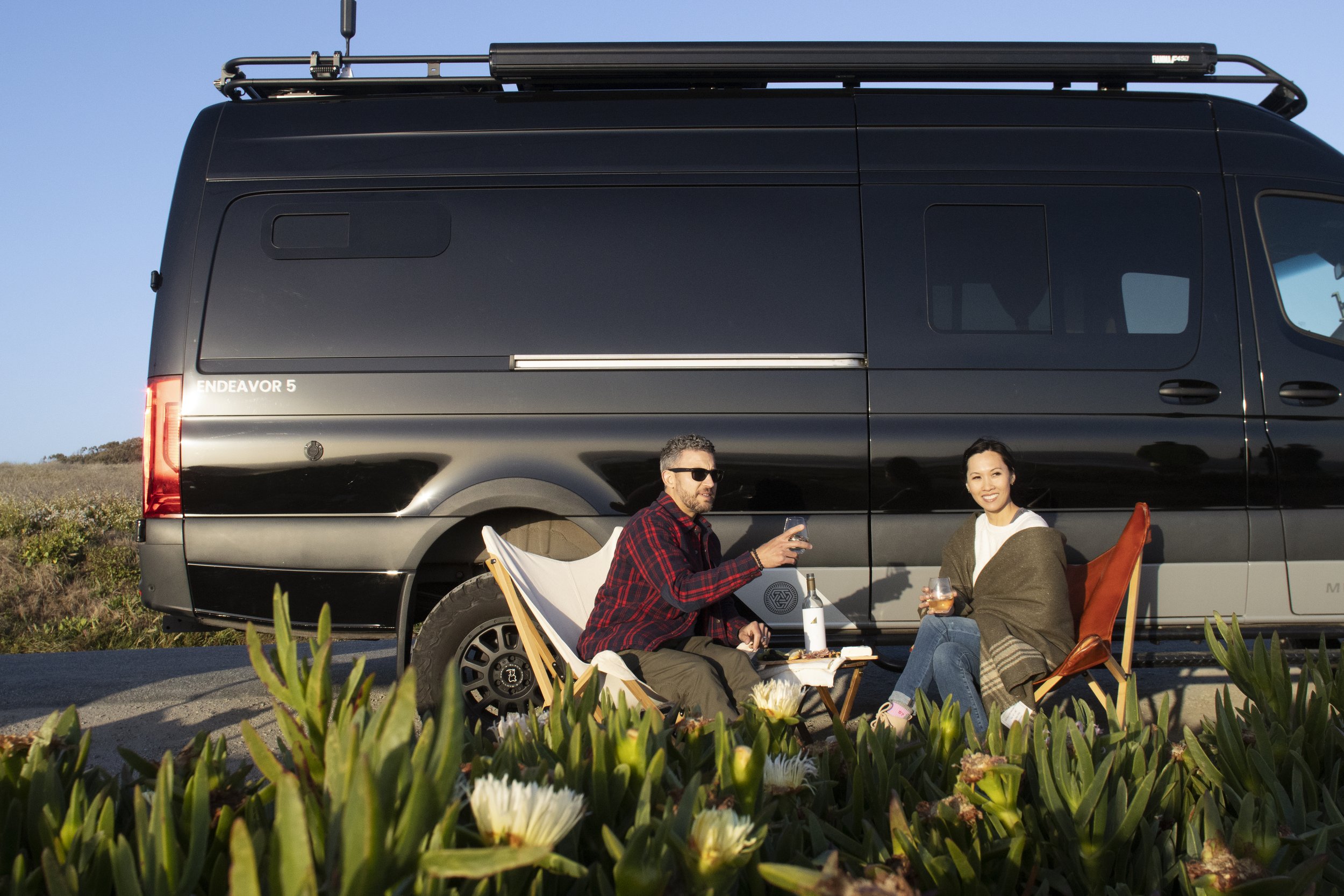 4. Fend Off the Sun
The sun is not your friend in hot climates, which is why it's important to take steps to keep its heating effects out of your van.
Parking in the shade might be the single most important thing to do to avoid the build-up of hot air inside of your van.
Everyone knows how hot vehicles get when left out in the sun during the summer, and although vans have some protection from the elements such as insulation, the temperature inside will rise quickly if left in the sun.
Aside from parking in the shade, having insulated and reflective window covers is a fantastic way to keep cool air inside of your van.
Window shades that not only reflect the sun's energy but also help to insulate your van are awesome during both summer and winter.
Several third-party companies sell complete kits for Sprinter vans that cover the front windows and even side and rear windows. These covers have the added benefit of acting as blackout curtains, which is great for people who love to sleep in!
5. Consider an Air Conditioner
People who plan on camping in hot climates frequently might consider adding a rooftop AC unit to their Sprinter van.
Unfortunately, an air conditioning unit that is efficient enough to run reliably off of an off-grid solar electrical setup has still not been developed.
AC units for vans are great for pumping cooler air into your rig when you are hooked up to shore power.
For people who camp at RV parks or who use their van to visit friends and family and park in their driveway, an AC unit can be nice to have in the summer months.
Are you looking for a van for your summer road trips? Muse & Co. Outdoors is one of the best camper van conversion companies in California. We offer semi-custom craftsman van builds for all 2019+ Mercedes Sprinter van models.
Use our Build My Van tool to learn more about our different models and begin your dream van build today!