5 Easy Meal Ideas for Campervan Cooking
One of the best parts about van life as opposed to camping is that you can easily make good food by using your campervan kitchen.
While cooking in a van is much better than eating camping food, you will still want to make simple meals that do not require an oven, fancy appliances, or too much clean-up.
Campervan meals can be delicious and healthy while also being easy and quick to prepare and clean up.
Use these awesome camping recipes on your next campervan road trip to eat great food without the hassle or the mess.
Overnight Oats
Looking for easy and delicious breakfast ideas to use while you're on a van life road trip?
Look no further than these amazing overnight oats, which require no cooking and can be pulled out of the fridge and enjoyed the next day.
Because the oats soak overnight, you don't have to cook them or deal with the sticky mess of a pot of oats.
You can make a large batch of these overnight oats, or make individual servings in mason jars or any sealable container. The individual servings are nice because everyone can customize their morning oats with toppings as they wish!
These overnight oats are one of our favorite campervan recipes because they provide a healthy meal in the morning without any hassle or difficult clean-up!
The portions in this recipe are for one serving of overnight oats.
Ingredients:
1/2 cup old-fashioned rolled oats
1/2 cup milk of choice (dairy, almond, soy, etc.)
1 teaspoon chia seeds
2 tbsp maple syrup
serving suggestions: fresh or dried fruit, nuts, peanut or almond butter, granola, dried shredded coconut, protein powder
Method:
Add the oats, milk, chia seeds, and maple syrup to a one-pint mason jar or similar container and stir them until combined. Refrigerate overnight for at least 5 hours.
In the morning, add additional liquid if desired and top with fruit, nuts, nut butter, or whatever you desire!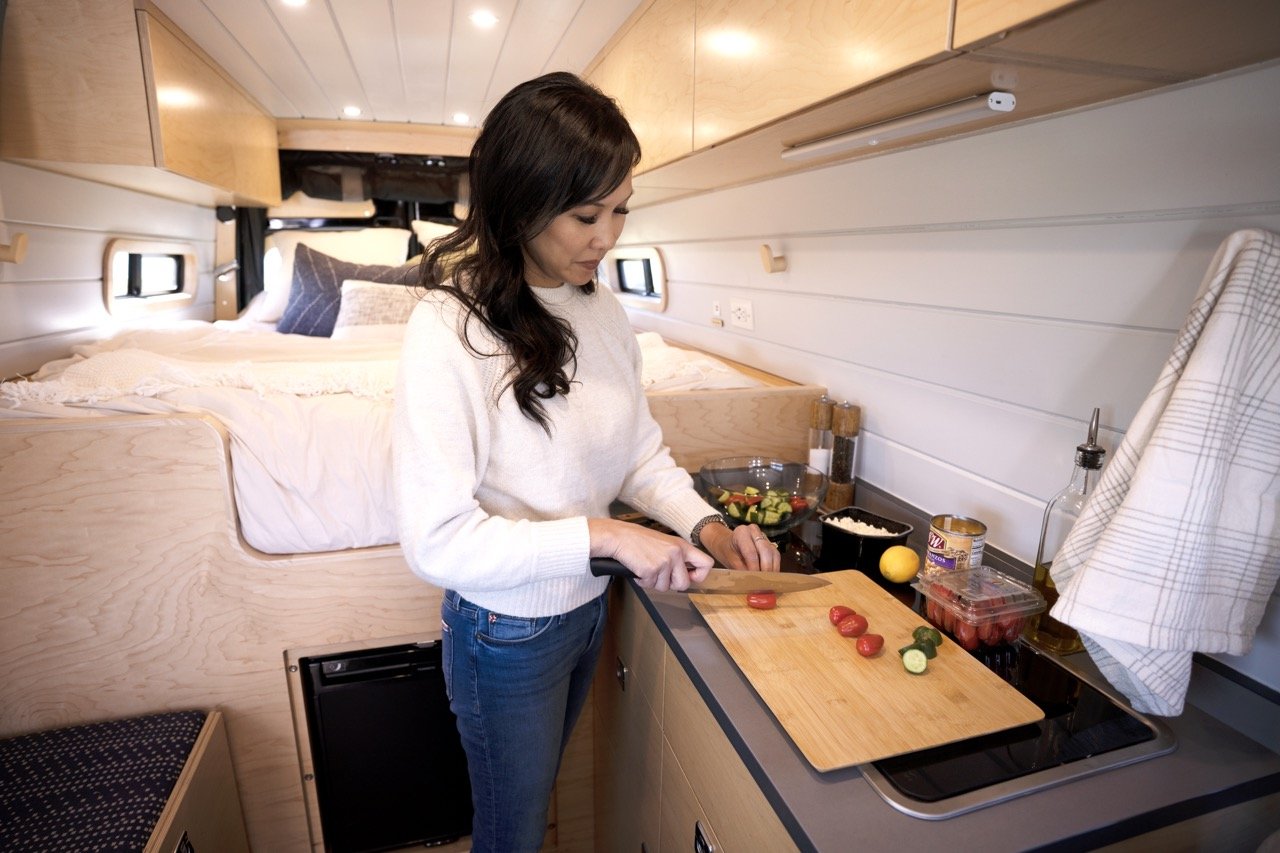 Breakfast Tacos
Everyone loves a good breakfast burrito, but breakfast tacos are just as delicious!
This is a great hearty camping meal that is versatile and easy to prepare.
Because the tacos are topped with a fried egg, you won't have to clean a super dirty frying pan after making scrambled eggs.
The veggie suggestions here are just that, suggestions! Feel free to add whatever is in the fridge and if you would like to add sausage or bacon, go for it!
This recipe makes four breakfast tacos.
Ingredients:
Taco-sized tortillas of choice
3 tbsp olive oil
2 tbsp butter
One medium onion, diced
One large potato, diced into 1/4 to 1/2-inch cubes
One bell pepper, color of choice
One can of black beans, drained
Shredded cheese
4 eggs
Salt and pepper to taste
Hot sauce, salsa, sour cream, avocado (all optional toppings)
Method:
Add the olive oil to a frying pan and heat over medium-high heat. Add the vegetables and sauté until potatoes are tender, 15-20 minutes. Season with salt and black pepper, to taste. You can use a lid to decrease the cooking time, if desired. When the veggies are done, add the black beans and stir until incorporated and warmed.
Remove the vegetables and beans from the pan and set aside in a bowl. Add butter to the pan and reduce heat to medium-low. Add eggs and cook to desired doneness (we like over-easy).
Add a large pinch of shredded cheese to each tortilla. Add veggie/bean mixture. Top each taco with a fried egg and any additional desired toppings. Enjoy!
One-Pot Coconut Veggie Curry
When you are glamping in a Sprinter van, you don't have to settle for hodge-podge dinners. This one-pot coconut veggie curry is a delicious and healthy meal that you can make easily during van camping trips.
The curry also saves in the fridge quite well for several days, so feel free to make a large batch and eat it for lunches during the week that follows.
This curry is best served over rice or quinoa, but even couscous will work in a pinch.
There are few veggies that will not work in this recipe, so feel free to improvise if you have some other things in the fridge.
If you want more protein in the dish, chicken breast works well. For a veg option, try adding a can of chickpeas.
This recipe makes 3-4 servings.
Ingredients:
2 tbsp coconut oil (olive is also fine)
1 yellow onion, diced
Small 3/4 inch cube of ginger, minced
3 cloves of garlic, minced
1 head of broccoli, cut into 1 1/2 inch pieces
1 head of cauliflower, cut into 1 1/2 inch pieces
1 yellow onion, diced
1 carrot, thinly sliced
1 1/2 cups snow peas, ends removed
1 tbsp curry powder, plus more to taste (or paste such as thai red curry paste, if preferred)
1 can of coconut milk
1 cube of vegetable bouillon
Salt and black pepper to taste
Cayenne pepper (optional)
Cashews and/or cilantro, for garnish (optional)
Method:
Heat oil in a large pot over medium heat. Add onion, garlic, and ginger and cook, stirring frequently, until onion is translucent, about 6 minutes.
Add carrot, broccoli, cauliflower, and peas and cook for 6-8 minutes, or until softened slightly.
Add curry powder or paste and stir until the vegetables are coated. Add coconut milk and crumble in the bouillon cube. Add cayenne pepper, if desired. Bring to a simmer and reduce heat to low, stirring occasionally. Cook until vegetables are tender, around 10 minutes.
Serve over grain of choice. Top with cashews and cilantro, if desired.
Elevated Ramen
Ramen has long been a staple of camping food, and it's easy to see why. Ramen is cheap, super easy to make (you just have to add hot water), and cooks in minutes.
But since everything is elevated when camping in a Sprinter van, why not elevate your ramen, too?
Fancy ramen is simple: You make your favorite ramen, and add in some vegetables and a soft-boiled egg to take this simple snack and turn it into a full-blown meal!
This recipe is for 1 serving of ramen, but can easily be multiplied for more people!
Ingredients:
1 pack of your favorite instant ramen
1 egg
2 tbsp cooking oil
2 heads of baby bok choy
4 oz crimini mushrooms
Small (about 3/4 inch) cube of ginger, peeled and minced
1 clove garlic, minced
Salt and pepper, to taste
3 green onions, finely chopped
Cilantro for garnish, finely chopped
Roasted peanuts for garnish
Sriracha (optional)
Method:
Bring about 2 cups of water to boil in a small pot. Add the egg with the shell on, being careful not to break it when placing it in the pot. Set a timer for 7 minutes.
While the egg is cooking, heat the oil in a pan over medium heat. Add the bok choy, mushrooms, garlic, and ginger and cook until tender, about 5-7 minutes. Add salt and pepper to taste, but remember that ramen is quite salty.
When the timer goes off, remove the egg with a slotted spoon and run some cold water over it. Set aside.
Add your ramen to the boiling water and cook according to the instructions on the packet before transferring to a bowl.
Crack the egg several times by tapping it on the countertop. Remove the peel carefully and place the egg on top of the ramen.
Add your veggies and garnishes to the ramen. Enjoy!
Fancy Mac and Cheese
Fancy mac and cheese follows the same process as the elevated ramen recipe. You will prepare your favorite boxed mac and cheese, and add in some veggies and sausage to really take it to the next level and make it a full meal!
This recipe is easy to prepare, requires minimal cleanup, and really hits the spot after a long day spent exploring.
You can always skip the sausage or opt for a vegetarian sausage option if you don't eat meat.
This recipe is also quite versatile and most veggies will work. You can even substitute another sausage or hot dogs if you'd like.
This recipe serves 2 people, though hungry campers have certainly been known to eat an entire box of mac and cheese in one sitting!
Ingredients:
1 box of your favorite mac and cheese (we like Annie's organic real aged cheddar)
1 tbsp cooking oil
1 half of a red onion, sliced
1 small head of broccoli, cut into 1 1/2 inch pieces
6 oz crimini mushrooms, sliced
2 fully-cooked chicken apple sausages
Salt and pepper, to taste
Milk and/or butter, as required by mac and cheese instructions
Method:
Boil some water and prepare your mac and cheese according to instructions.
While water is boiling and pasta is cooking, heat the oil in a frying pan over medium-high heat. Add your vegetables and sausage and stir fry until broccoli is tender, stirring occasionally, about 10 minutes. Add salt and pepper to taste.
Place your prepared mac and cheese in bowls. Add vegetable/sausage mix and stir. It's that easy!
Are you looking for a decked-out Sprinter van to enjoy some delicious meals from on the road? Look no further than Muse & Co. Outdoors, California's top Sprinter van conversion company.
Muse & Co. Outdoors builds semi-customizable luxury Sprinter van conversions for solo travelers, couples, and families looking to try the van life.
We use the highest-quality sustainable materials throughout our builds to ensure that our vans are not only comfortable and beautiful but also rugged and durable.
Check out our Build My Van tool to learn more about our different models and visualize your dream rig!