Why Are Sprinter Camper Vans so Popular?
There's a movement sweeping across America. After the wildly popular VW bus redefined the American road trip in the '60s and '70s, camper vans all but disappeared in the U.S. Now, in the past ten years, they've made a reappearance in the form of Sprinter camper vans and the #vanlife movement – and they're becoming more popular than ever.
So, what is it about Sprinter vans that has led to their surge in popularity in recent years? Is the #vanlife movement here to stay? As the leading Bay Area camper van builder, we have unique insight into this movement and the vans behind it. Keep reading to learn more about Sprinter vans, and why they've become so popular across the country.
What is a Sprinter Camper Van?
Let's start with the basics. There's actually quite a bit of confusion out there about what Sprinter vans are. People tend to use 'Sprinter van' as a blanket term to refer to all makes and models of high-roof vans, but this isn't accurate.
'Sprinter' is actually the model name of Mercedes' line of high-roof cargo vans. Mercedes were the first to bring this style of van to the U.S., after they had already become wildly popular overseas in Europe. And, there's a reason why people use 'Sprinter' as a blanket term to refer to all makes and models of high roof vans; the Mercedes Sprinter represents the industry standard, and it's the most popular option for converting into a camper van.
While other makes and models of high roof vans, like the Ford Transit and Ram Promaster, are also used for camper van conversions, the Sprinter offers unparalleled reliability, gas mileage, features, and build quality. These are the major reasons why Sprinter vans are the best van for a camper van conversion.
Why Are Sprinter Camper Vans so Popular?
It's been 20 years since Mercedes brought the Sprinter to the U.S. But only in the last ten, and especially in the most recent five years, have Sprinter camper van conversions become so commonplace. What is it about Sprinter conversions that are so appealing to so many people? Will this movement last? Let's discuss!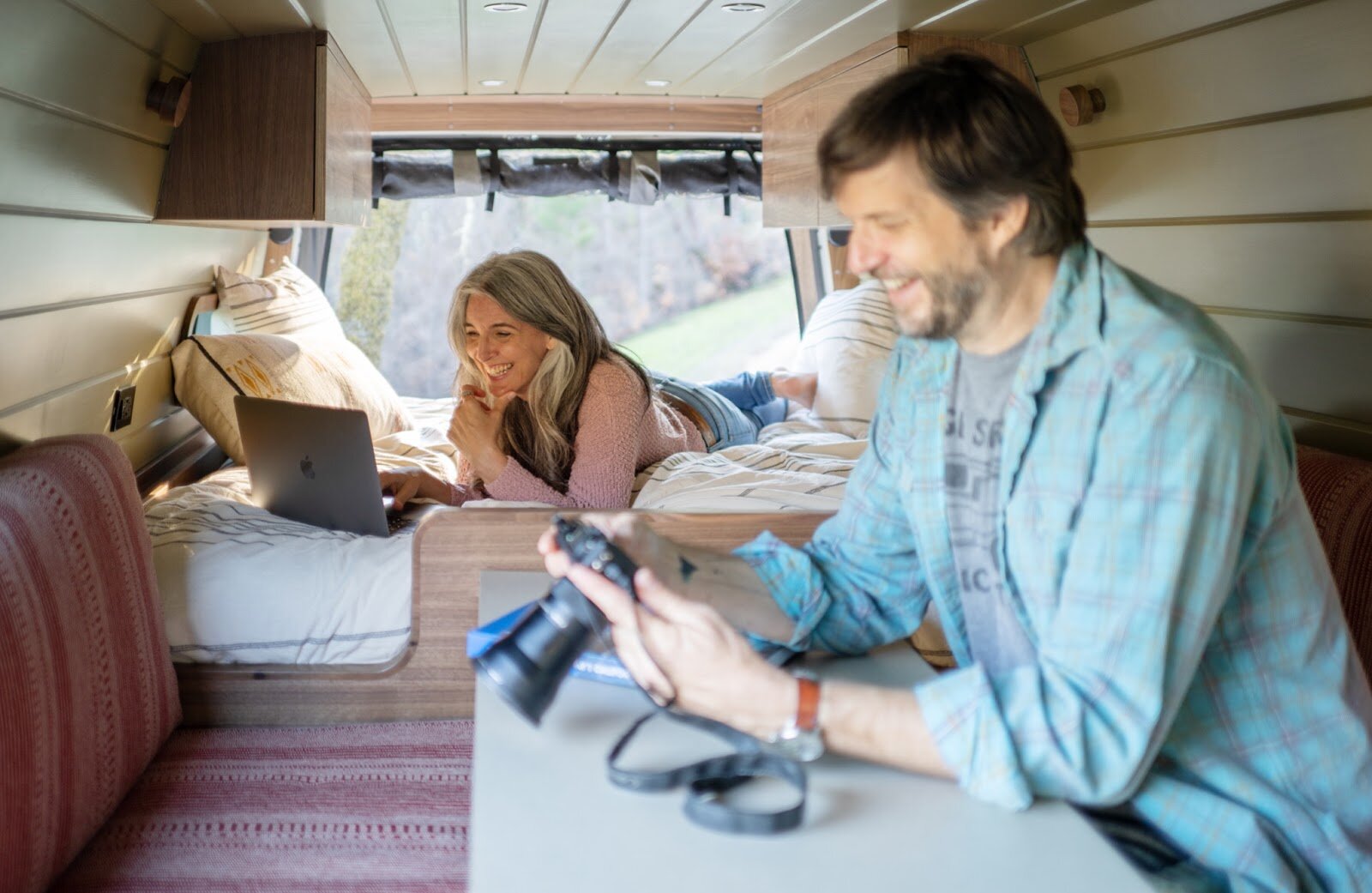 Versatility
Versatility is the number one reason why Sprinter vans are so popular. Smaller than an RV, but with massive advantages over car camping or smaller vans, Sprinter campers are the perfect balance between luxury and convenience.
Sprinters are easily maneuverable in city environments. Depending on the wheelbase of the van, they can fit in a standard parking space. They're tall enough to stand up inside of, but small enough to take most places a car can go. You can fit a bed, kitchen, seating area, and lots of storage in a Sprinter van, but you won't be limited to where you can take it, as is the case in an RV. Sprinters also come with optional 4 wheel-drive, so you can use them for ski trips and to access tucked-away camping spots off the beaten path.
Despite having plenty of room for many of the comforts of home, Sprinter vans get astonishingly good gas mileage, thanks to Mercedes' much-acclaimed line of highly efficient diesel engines. Some people even use their Sprinter camper vans as their daily drivers, as well as their adventure rigs.
Customizability
Since its beginnings, the #vanlife movement has always been about customizability. Sprinter vans are built primarily for use as a cargo or work van, so their interiors come as a blank canvas. It makes sense that customization would be such a core value to the camper van conversion world.
While some camper van conversion companies do exist now that offer RV-like, cookie-cutter camper builds in Sprinters, this is not the typical way of vanlifers. Making your Sprinter camper van your own is a huge part of what makes this movement special. Even if you buy a built-out van from a professional conversion company, you'll want to have a say in the features it includes and the look and feel it has.
Muse & Co. Outdoors vans can be customized in several ways, from the countertop color to the option to add a roof rack. We keep our costs and lead times reasonable by offering two base models, but allow our customers to make their vans their own by choosing color palettes, materials, and accessories.