Campervan Storage Ideas for Easy Organization on the Road
Sprinter camper vans have many benefits, but their main draw is the ability to pack so much comfort and functionality into such a small living space. In a vehicle that can fit in a standard parking spot, you can have a bed, a kitchen, a garage, and space for seating and storage. It's no wonder that the #vanlife craze is continuing to grow in the U.S. and beyond, and many people are even taking road trips and living full-time in their camper van conversions.
Of course, there are certain challenges when designing a camper van layout. Fitting so much into a small space requires excellent planning. In order to prevent a camper van from feeling cluttered, it is essential to have enough space for storage of all your items, and to maximize the storage that you do have by using it efficiently.
Many small items, like paper towel holders, heavy-duty velcro, bungee cords, and spice racks can be found on Amazon or your local department store and can go a long way to de-cluttering your van. But for the real challenge of fitting all of your major gear in your van without making it feel like a giant storage container, you'll need some serious forethought and a perfect layout.
Keep reading to learn about some awesome ways that you can maximize the amount of storage space in your Sprinter camper van!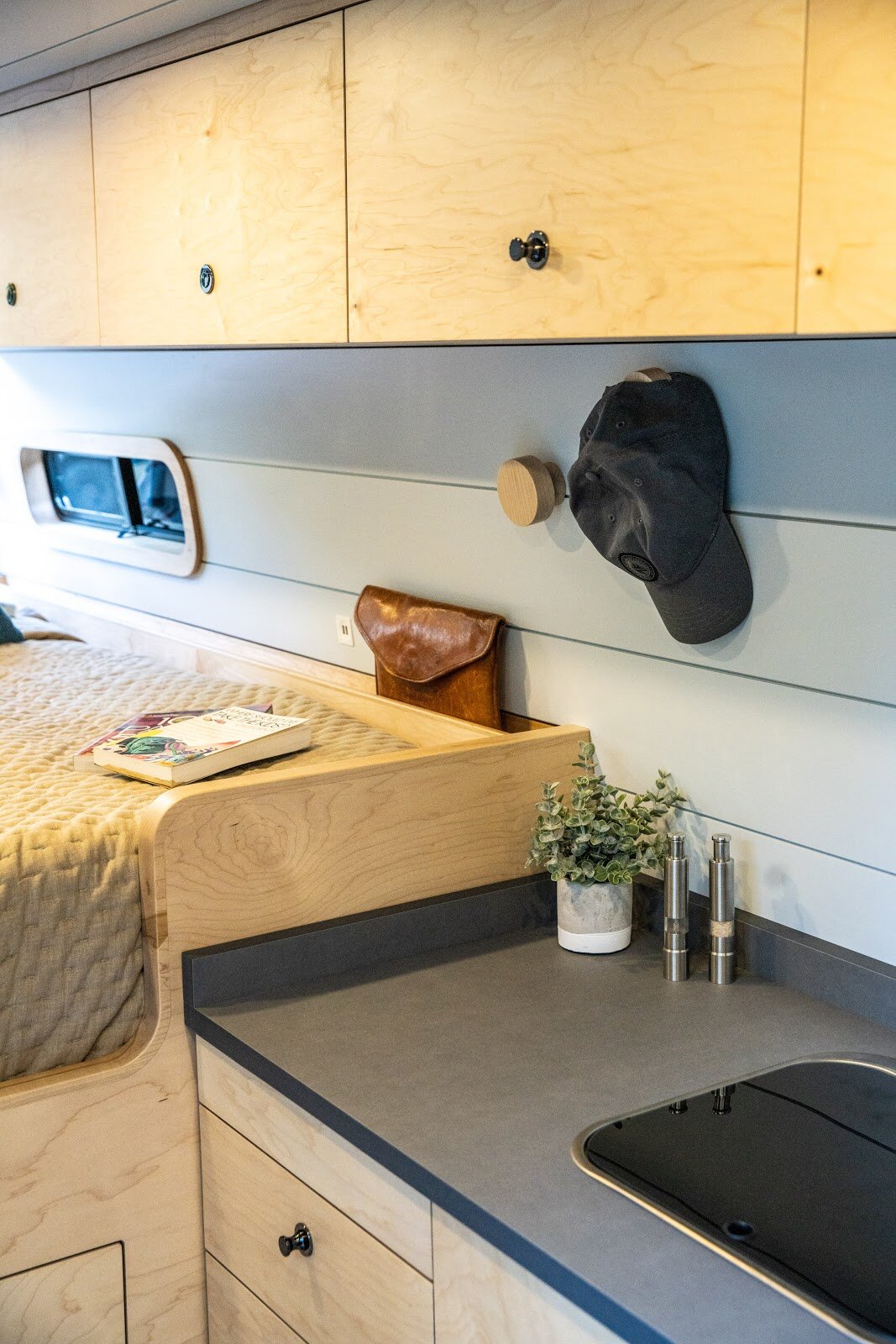 Efficient Cabinetry
IIt could be argued that the most important element of any van build is cabinetry. Cabinets play many roles in most builds, including not only holding gear, but also providing structural support and a place to install appliances like a fridge or a sink. If you're looking to maximize storage space in a camper van, the most important thing is to have cabinets that are built thoughtfully.
There are a handful of common types of cabinets in camper vans, including large kitchen cabinets, overhead cabinets, and pull-out drawers, to name a few. When it comes to building cabinetry for a van, a high level of planning and expertise is needed to truly maximize space. Far too often, the cabinetry in a van is too bulky and fails to create as much storage space as it could.
Since van walls are curved, cabinetry can be much more challenging to build and install than in a square space. The best van builders are able to work around the irregular shape of the van's interior to utilize every available square inch of space. All van cabinets are not created equal, and you should seek out a builder that boasts excellent cabinetry skills!
Drawers, Drawers, and More Drawers for Van Life
Drawers are an essential part of the storage scheme in any van build. Drawers maximize storage space in a van by allowing easy access to all the items they hold. As opposed to cabinets or cubbies, drawers make it easy to reach items towards the back.
Drawers must be well-secured in a van to ensure they don't come open while driving. There are a few different strategies for achieving this. Here at Muse & Co. Outdoors, our drawers are secured using magnets that are easily released when you apply force to open the drawer, but strong enough to safely keep them secured while driving. Unlike many latch options, our magnet system also has the advantage of being completely fool-proof—as long as you push the drawer closed before driving, it will stay secured.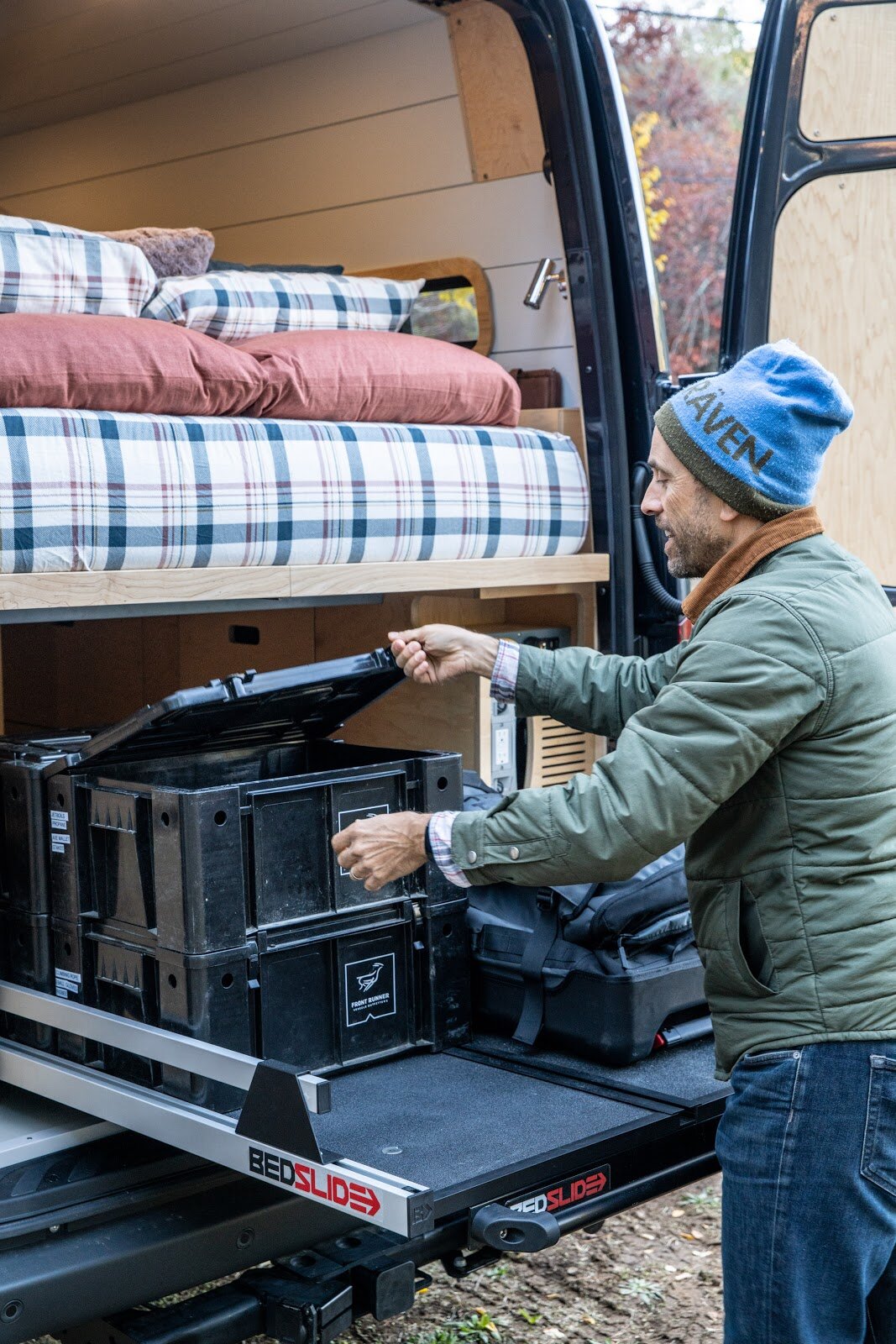 Bedslide Hack
A Bedslide is a sliding platform, intended to make gear in the bed of pickup trucks easily accessible. Bedslides are extremely rugged and durable, and they boast a massive weight capacity. Similar to drawers, a Bedslide gives you the ability to access the gear farthest away from the doors.
Whether you need the extra space for skis, cleaning supplies, backpacking equipment, or mountain bikes, a Bedslide can help you maximize the interior space in your van.
At Muse & Co. Outdoors, all of our vans come equipped standard with a Bedslide in the rear. When you open the rear doors, you will have access to the "garage" area of the van, which is the area under the queen-sized bed. The garage is the perfect place to store all your adventure gear.
With the Bedslide, you can load your gear in any configuration you'd like, without worrying about how accessible any of it will be. Even the items you place farthest from the rear doors will be easily within arm's reach when the slide is fully extended. With a weight capacity of 1000 pounds, you would be hard-pressed to find items heavy enough to even come close to the Bedslide's maximum.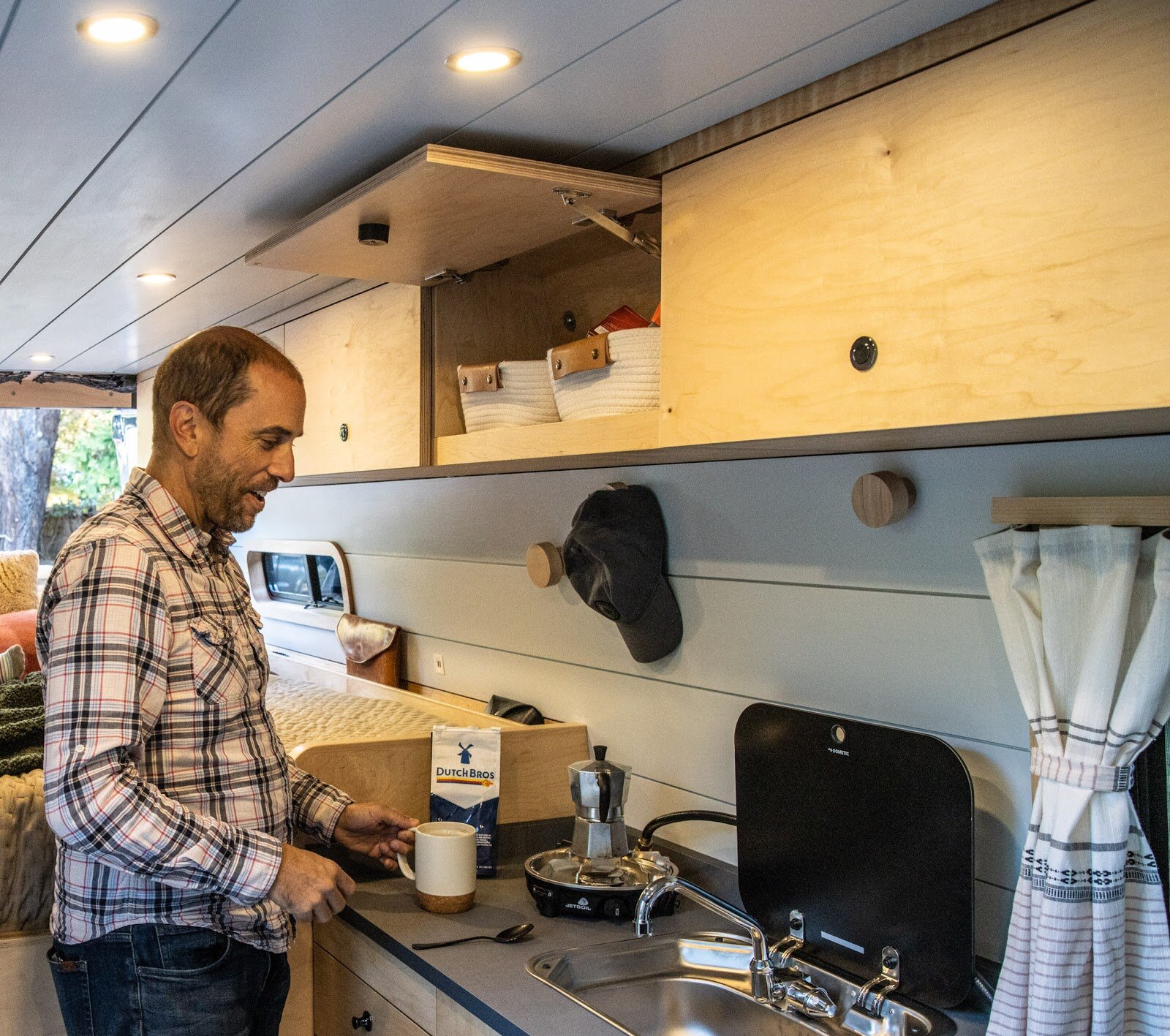 Use Soft-Sided Baskets for an Easy Cabinet Storage Solution
A great way to get the most out of your van's cabinet space is by using bins. We love to use soft-sided storage boxes in our vans – especially for items like food and toiletries – because they keep hard items from rattling against the inside of your cabinets while you drive.
The other major benefit of adding strategically-placed storage bins in your cabinets is that they keep certain items more consolidated, freeing up counter space and de-cluttering your van. Socks and underwear, and even odds and ends like laptops or cutting boards take up far less room when kept in a bin.
Shoe racks take up valuable floor space, but you can store many pairs of shoes in one bin and stick them in a cabinet, out of the way. Toiletries and pantry items can also be placed in bins, saving surface area and allowing for more of the cabinet's vertical space to be used.
Add a Roof Rack for Extra Storage Hacks
For certain travelers and outdoor enthusiasts, a roof rack is a must-have addition to free up precious space inside of the van. Kayaks and surfboards are two examples of items that can rarely fit inside of a Sprinter van. With a roof rack, you can store these large items, and you may even still have room for a rooftop cargo box which can hold even more gear.
It's worth noting that roof racks have several other benefits aside from gear storage. They can provide attachment points for items such as Road Showers and retractable awnings, both of which are available as add-ons from Muse & Co. Outdoors.