How Much Does a Sprinter Camper Van Conversion Cost?
If you're looking into purchasing a converted Sprinter camper van, then you will surely have questions about how much you are likely to spend. Like most things, when it comes to camper van conversions, it can be said that you get what you pay for.
The truth is, the cost of Sprinter camper van conversions varies greatly depending on the materials used, the options and accessories included, and the level of craftsmanship that goes into the build. Top-tier van conversion companies will spare no expense, but the higher build costs are worth it for those who are looking for a camper van that is luxurious, capable, and will last for several years to come.
Cost of the Van vs. Cost of the Conversion
If you are going to hire a professional van outfitter to build the camper van of your dreams, you are looking at two main expenses: The cost of the van itself, and the cost of converting the interior into a camper van.
Mercedes Sprinter vans, as well as similar models that people use to build campers, are actually meant to be cargo vans. The interior comes as an empty canvas, and your van builder 'converts' this plain work vehicle into a beautiful camper van. Thus, your two main expenses will be the van itself, and the cost of the buildout.
When it comes to buying a cargo van to be converted into a camper, prices can range drastically. Some factors that will influence the cost of your van include:
Buying New vs. Buying Used
Buying a brand new van will, of course, be more expensive than purchasing a used van. However, factory warranties and improved performance of the newer models make them well worth the cost.
Model of the Van
There are three main cargo van models available for sale in the U.S. that are commonly converted into camper vans. They are the Ram Promaster, the Ford Transit, and the Mercedes Sprinter. Sprinters are the most expensive of the three, but also the most reliable and featured.
4×4 or 2WD
Sprinters are the only cargo van offered in a 4×4 configuration. For many adventurers, 4×4 is a must have. Of course, a 4×4 Sprinter will cost more than its 2WD counterpart.
Once you've settled on a van, it's time to consider conversion costs. A professional van conversion can cost anywhere from $30,000 to upwards of $200,000. Of course, the final product you get on either end of this spectrum will be vastly different. Let's break down the different elements that affect the final cost of a van conversion.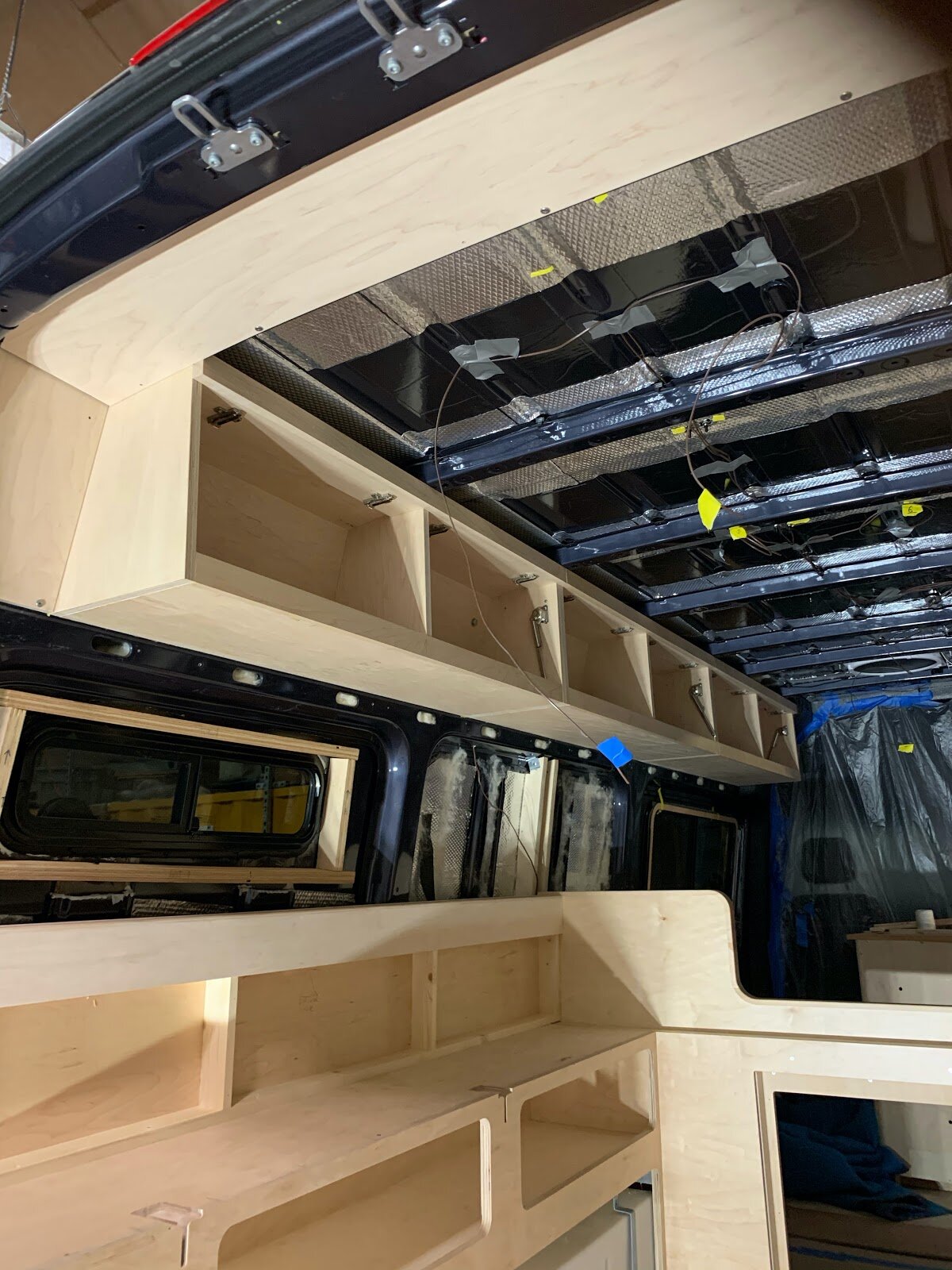 What Affects the Cost of a Camper Van Conversion?
There are many factors that will affect the final cost of your van build-out. From build materials, to craftsmanship, to appliances, virtually every element of your build can vary greatly in cost depending on what is used and how it's built. In an average Sprinter van conversion, the following aspects will determine how much the build costs:
Build Materials
In every part of your build, the conversion company will choose what build materials will be used. Cabinetry can be constructed using anything from the cheapest composite board to premium hardwood. Insulation can be done quick and cheap with messy, toxic sprayfoam insulation. Or, a builder can use a premium insulation such as Havelock Wool, which is designed for use in vans and is completely non-toxic. It's important to know what materials were used to build your camper van interior, because some builders attempt to cut costs by using cheap materials, without reflecting this in the final price of the build.
Labor
No matter who you choose to do your van build, labor will likely comprise at least 50% of the total cost. Camper van interiors are subject to harsh conditions – from the movement of the road to large temperature swings. Hiring an expert builder is a good way to ensure that your camper van interior will last for many years to come.
Appliances and Features
There is an endless assortment of gear and gadgets that can be included in a camper van build. From 12v battery systems, to roof racks, to appliances like stovetops and fridges, you will have options for just about every component in your van. Of course, a Sprinter van has limited space, so you'll need to choose what components are important for your build, and what you can live without. Finding a good balance between functionality and simplicity will help you to keep costs reasonable. Many builders will choose many of the components for you, so do your research and ensure that your builder is using quality gadgets. Remember, you'll be living with your decisions – trust us, there's a big difference between a cheap portable toilet, for exampe, and the highest quality composting toilet.
How Much Is a Camper Van Conversion from Muse & Co. Outdoors?
Muse & Co. Outdoors offers luxury Sprinter camper van conversions at an affordable price point. Our builds start around $135,000. While our base models come with many premium features included, we also have an array of add-ons and extras that can be incorporated into your build at an extra cost.
Our builds include everything you need for your next adventure, and nothing you don't. We believe that a camper van should facilitate adventures, and provide a welcoming shelter after long days spent outside. Our decades of combined design and build experience ensure that every aspect of your build will be crafted with precision and attention to detail.
We stand by our builds with a 36,000 mile/3-year warranty. Our interiors are built to last as long as the van itself.
If you're intrigued by the #vanlife but still thinking about how to make it a financial reality, check out this article to learn more about how to afford a Sprinter Van Conversion.