8 Camper Van Hacks for Easy on the Road Living
The best part about #vanlife is having a tiny home on wheels that you get to bring with you on all of your adventures. Whether you're on an extended road trip or just enjoying a weekend getaway, the comfort that a camper van provides while traveling is hard to beat.
That said, a Sprinter camper van is a small space, which means that it can take some creativity to maximize comfort and functionality on the road. Of course, the best way to ensure that you're getting the most from your camper van is to start with a well-designed layout. But you can still improve your experience, even in the best professionally-built camper vans, by implementing some nifty storage ideas and van life hacks.
Keep reading to learn our top 8 camper van hacks to help you live more comfortably on the road!
---
Affiliate Disclaimer: Some of the links below are affiliate links, meaning, at no additional cost to you, we may earn a commission if you click through and make a purchase. As an Amazon Associate we earn from qualifying purchases.
Most experienced vanlifers can tell you a story or two about leaving a window down by accident, only to realize their mistake when they find their van to be infested with mosquitos! If you plan on doing summer van camping, mosquito netting can be a real lifesaver.
Your Sprinter van conversion company might offer an option or package to add mosquito netting to your build. It's great to have netting that is removable, and attaches to your slider door and/or window frames with velcro or magnets. On warm summer nights when the mosquitos are out, this camping hack will allow you to feel a cool, bug-free breeze from inside your van.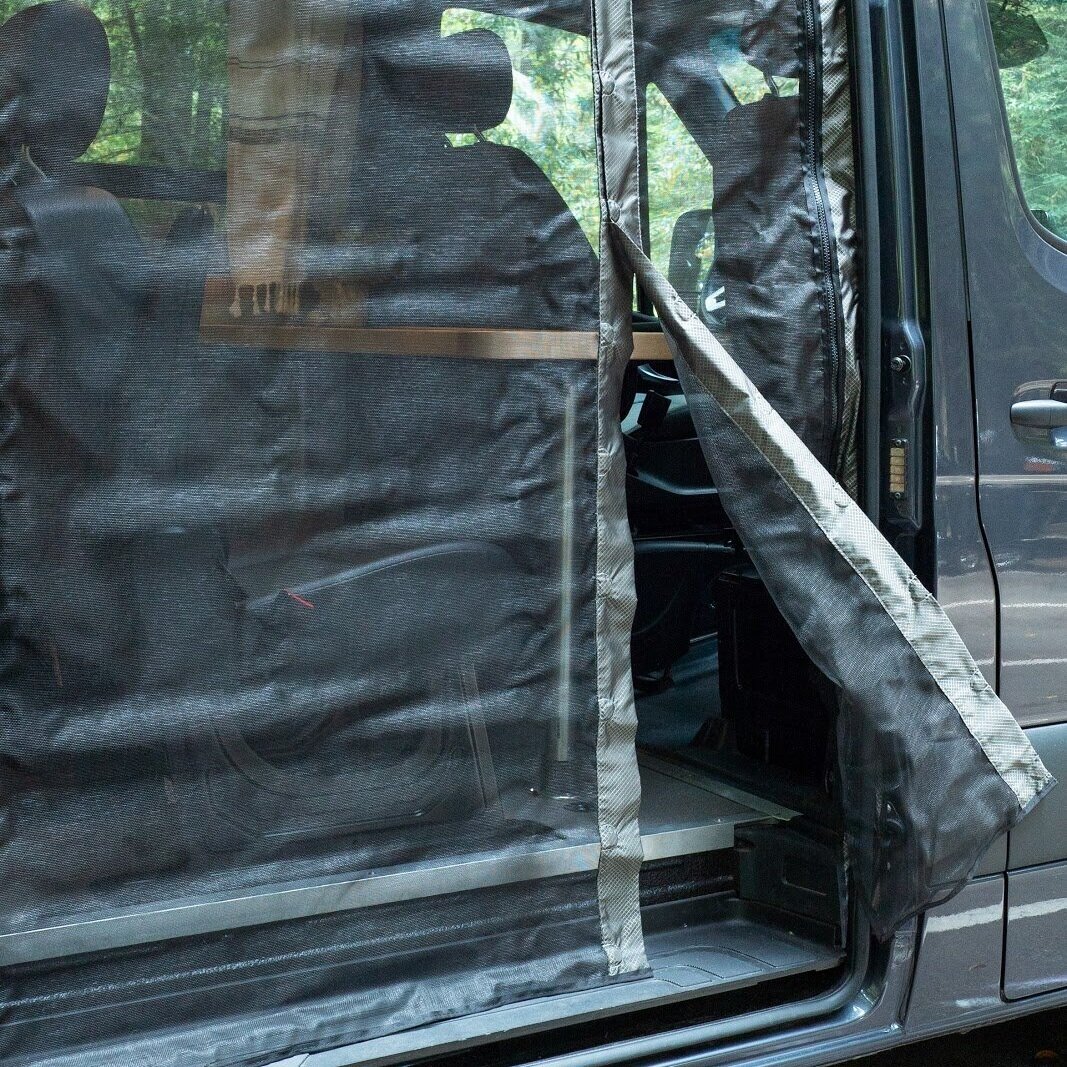 Storing your fruits and veggies while on the road can be difficult. Drawers and cabinets are an option, but it's hard to keep your produce from bouncing around while driving – especially if you travel on dirt roads.
A great solution is this all-time favorite campervan storage hack: Using a hanging fruit and veggie hammock to store produce. These hanging contraptions serve many purposes—they are space-saving, they look nice, and most importantly, they protect your produce from bumps and bruises.
When your van hits rough spots in the road, this van life tip will help your veggies will stay in place as the hammock rocks gently back and forth— instead of bouncing and rolling around in your cabinet.
Organization is critical in camper vans in order to decrease clutter and save storage space. A spice rack is one of the best campervan hacks because it gives you easy access to all your favorite spices, looks nice, and keeps little glass spice jars from making noise and taking up space in your cabinets.
A popular option for a DIY spice rack among van enthusiasts is to securely attach the lids of glass jars to a surface in your kitchen. You can then fill your jars with spices and screw them into the secured lids. Popular mounting locations include the backsplash and under the overhead kitchen cabinets.
We may be able to afford the space in our home to have a chaotic drawer full of tupperware containers and scattered lids, but when it comes to van living, this waste of space just won't fly. A great solution to food storage while on the road is to use collapsible plastic storage containers. These containers will become your best friend on the road. They can hold all your leftovers while in use, and they pack down flat for easy, out-of-the-way storage.
Your van is bound to get dirty while you're out adventuring. Tracking dirt and gravel in from outside is unavoidable. If you have pets, hair cleanup will surely become part of your daily vanlife routine.
Fortunately, vans are a relatively small space, and they're easy to clean. Handheld vacuums can make life easier for van lifers when it comes time to tidy up. You can find rechargeable ones for relatively cheap, or various options that plug into your van's inverter outlets. If you get a corded model, make sure that it is able to reach all the nooks and crannies of your rig easily to avoid spending a lot of time on your hands and knees.
If you do much free camping outside of developed campgrounds, wheel leveling ramps are a great thing to have. These small plastic ramps stow away neatly and can be found for less than $50. When you get to your campsite, all you have to do is figure out which wheel or two wheels are the lowest. Then, place the ramps in front of the lowest wheels and drive slowly up them until the van is level in your parking spot.
Ask any full-time van lifer: a perfectly level camping spot makes cooking and other tasks easier. It also helps to ensure that you'll have a comfortable night's sleep. There's nothing worse than waking up with a headache when camping because your head is lower than your feet!
(TIP: Most smartphones come equipped with a 360-degree level app, which can help you to make sure your space is flat.)
With such a small space, the line between beautifully organized and total mess is pretty thin. One thing we can't live without in our van: storage bins. Storage bins of all shapes and sizes can help to organize things in many areas of your van. Two of the best places to implement them are in your underbed storage/ "garage" area, and in overhead cabinets.
In the garage, larger storage bins can be used to organize camping gear and keep dirty or damp items separated. In the overhead cabinets, using small bins for items such as toiletries, socks, and underwear can help to de-clutter and free up space.
One great way to keep your van clean while camping is to bring a roll-up outdoor rug or doormat. When you're setting up camp, just lay down your mat on the ground outside the slider.
This is a great way to prevent too much dirt, dust, sand, and mud from tracking into your little home on wheels. Plus, it has the added benefit of creating a warm and homey atmosphere for your campsite!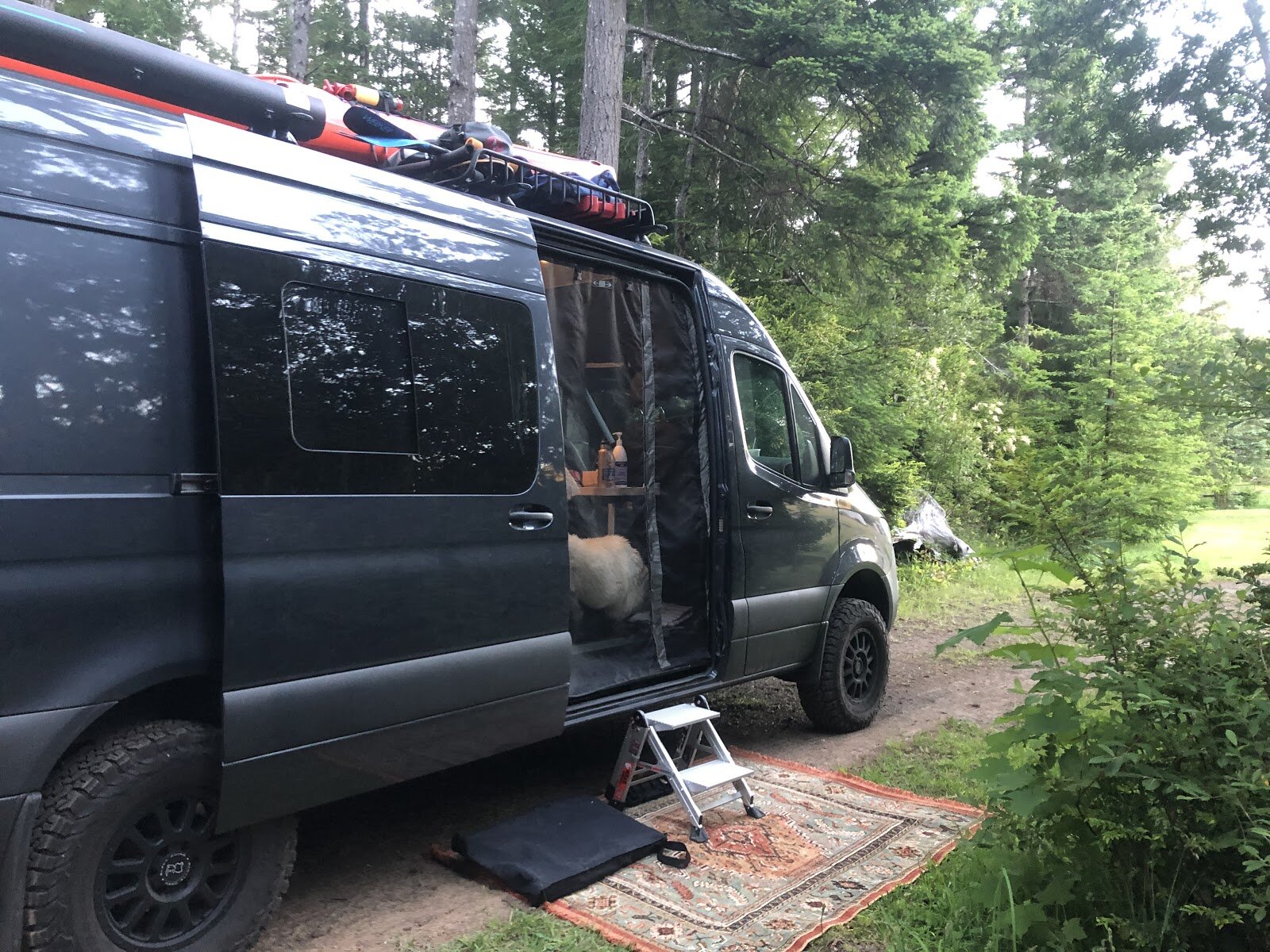 One response to "8 Camper Van Hacks for Easy on the Road Living"