5 Essential Features for a Mountain Biker's Dream Van
The surge in popularity of Sprinter camper vans began in the rock climbing community and has spread quickly to the rest of the outdoor world. Now, Sprinter vans are becoming a routine sight at mountain biking trailheads.
The van life allows mountain bikers to camp right at the trailhead and get an early start on the trails in the morning. In the afternoon, after a long ride, there's nothing better than getting back to your van and cracking a cold beer from the fridge.
The van life just makes sense for those who love to get out and mountain bike on the weekends or on longer trips. But every van is not set up well to support this activity. Keep reading to learn about the features and gadgets that can turn a Sprinter van into a mountain biker's dream!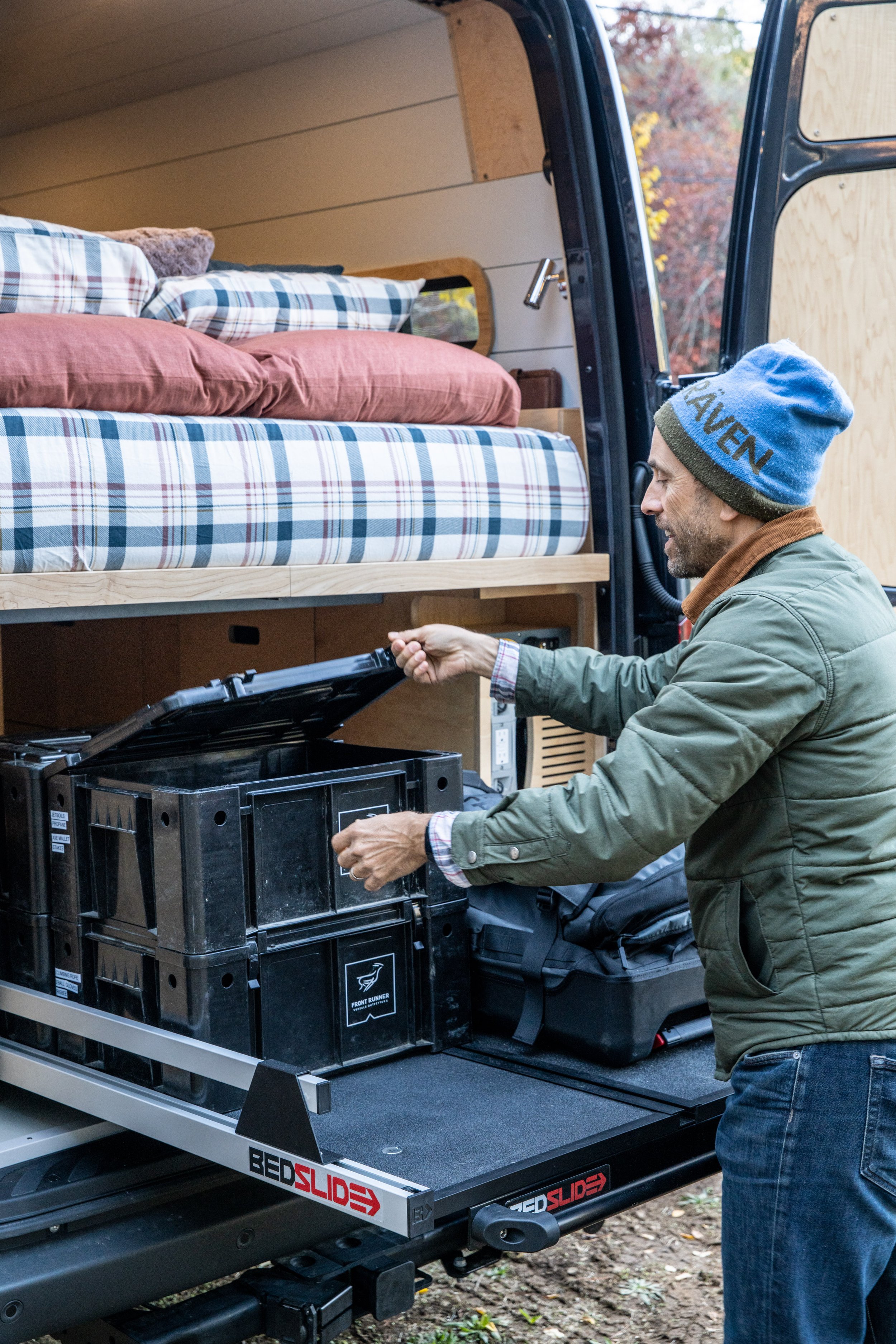 1. Slide-Out Storage
Any outdoor enthusiast knows that no matter what sport you're into, the gear inevitably begins to pile up. Sprinter camper vans pack a lot into a small space, so whatever storage areas you do have need to be cleverly designed to maximize their usability.
The 'garage' area under the bed is commonly the largest storage area in a Sprinter van. One of the smartest ways to maximize the usable space in your garage is to install a sliding platform there for all of your gear. This allows you to access everything stored in the garage without diving head-first through your van's rear doors to go digging for gear.
For mountain bikers, slide-out garage storage can be used to store the bikes themselves, or all the extra clothes and gear that the sport requires. All Muse & Co. Outdoors vans come equipped with a heavy-duty BedSlide in the garage area, capable of holding 1000 lbs of gear!
Another option that some of our biking enthusiast customers request is to modify the garage area with quick-relase fork mounts for transporting multiple bikes inside the van. This is a more secure option for storing and transporting expensive bikes on a rear-mounted rack.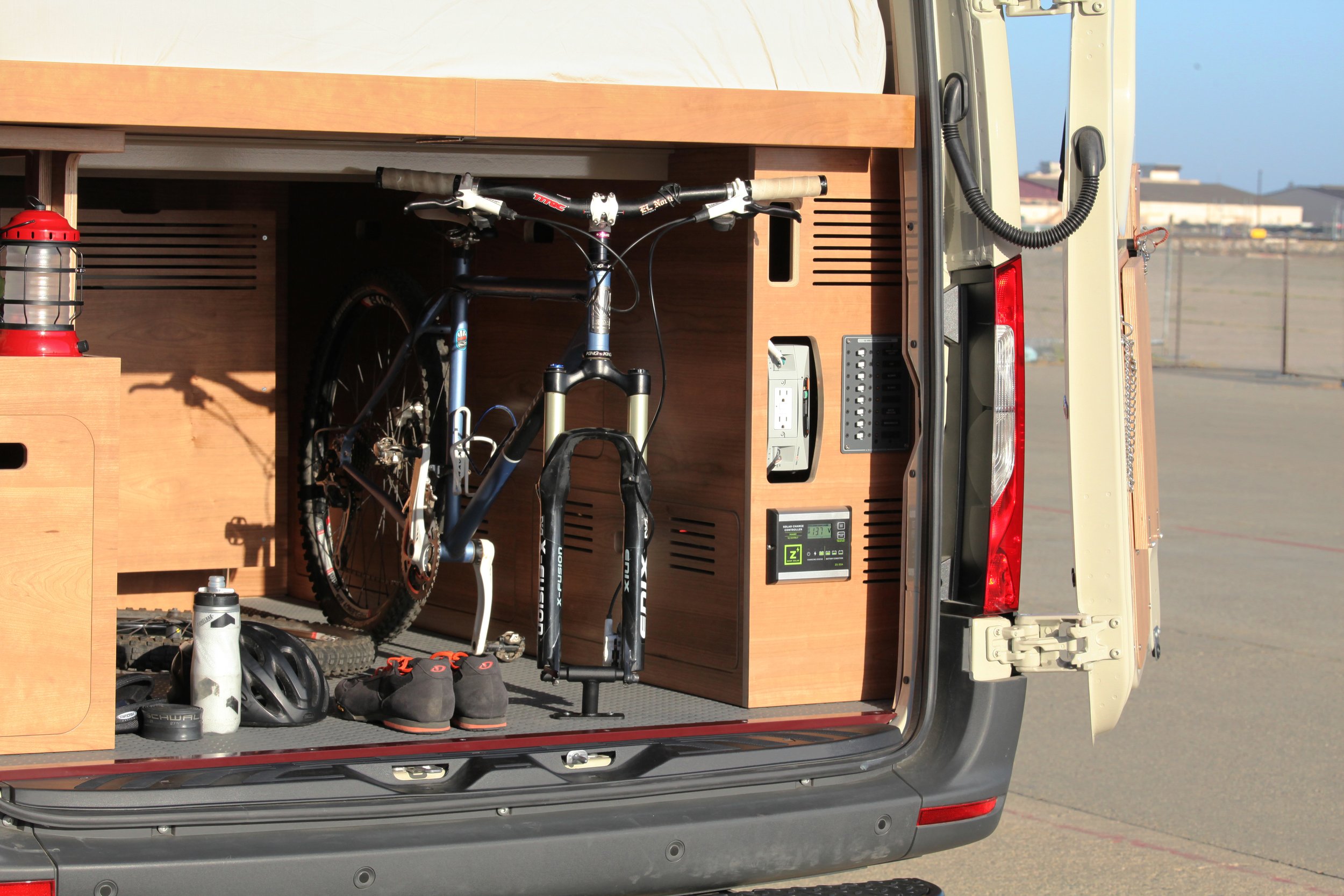 2. Hitch/Rack
While some mountain bikers will want to store their bikes inside of their vans, most will opt for a rear-mounted hitch rack as their bike carrying solution. Hitch racks provide many advantages over storing your bikes inside, including:
Increased storage capacity: The primary, and most obvious reason to keep your bikes on a hitch rack is to free up the limited storage space inside the van for other items. Bikes take up a tremendous amount of space when kept inside.
Easier to load and unload: Another pro of hitch racks is that loading and unloading your mountain bike takes seconds, rather than several minutes. This is mostly due to the fact that you won't have to remove the front wheel in order to store your bike on a rack.
Potential to carry more bikes: If you plan on ever using your Sprinter van to shuttle several mountain bikers to the top of a trail, then a hitch rack is a no-brainer. Families carrying several bikes will also appreciate the extra carrying capacity of a rack.
Not all Sprinter vans come equipped with a rear hitch. If yours does have a hitch already, all you'll need is the bike rack. If not, you will need to have the hitch installed as well. Muse & Co. Outdoors offers a rear hitch and premium Kuat bike rack as part of our optional bike package.
3. Compressor & Pressure Gauge
An onboard air compressor is a gadget that will do more than just impress your friends. Serious mountain bikers will find themselves using their compressor and pressure gauge before almost every ride.
Adjusting the pressure of your tires according to the trail type and current conditions is a critical aspect of preparing for a mountain bike ride. Having the optimal tire pressure for the conditions can help you ride faster and with more control.
Muse & Co. Outdoors offers a top-of-the-line ARB onboard air compressor and pressure gauge as part of our bike package. The ARB onboard air compressor is designed for use in offroading vehicles, so it is plenty powerful to handle your mountain bike tires. Plus, if you find yourself in an area with a lot of sand or deep snow, you can use it to lower the pressure of your van tires to increase traction—then fill them back up once you're back on solid ground.
4. Outdoor Shower
An outdoor shower setup will be your best friend as a mountain biker traveling in a Sprinter camper van. As a mountain biker, you already know that the more fun you're having, the dirtier you will be at the end of your ride.
Whether your bottom half is caked in mud from the trail, or you are drenched in sweat after a long summer ride, having the ability to rinse off when you get back to your van is a major game-changer. And for mountain bikers, an outdoor shower will come in handy in more ways than one—after a muddy ride, it's important to rinse off your bike to protect components from corrosion.
Muse & Co. Outdoors offers the option to add one or more Yakima Road Showers to any of our van conversions with a roof rack. The Road Shower provides access to pressurized on-demand water outside your van. It is designed to heat up the water when the sun hits it, so you (and your bikes) can enjoy a warm rinse when you finish your ride.
5. 4×4
Taking mountain bike trips in your Sprinter van does not mean that you have to give up access to some of those more remote trailheads that require offroad driving to get to. High clearance 4×4 trucks and SUVs have long been a favorite vehicle choice among mountain bikers because the ability to drive on rough roads opens up access to more trails.
Fortunately, the Mercedes Sprinter comes with optional four-wheel drive. While not as nimble as a smaller truck or SUV, 4×4 Sprinters can hold their own in many offroad scenarios. With an added suspension upgrade, you'll be surprised where you can take your Sprinter van.
Muse & Co. Outdoors routinely outfits 4×4 Sprinter vans. We offer an optional suspension upgrade for increased offroad clearance and performance, so you can bring all the comforts of a luxury Sprinter camper van to your favorite trailhead.