Sprinter Van Sustainability: How to Live an Eco-Conscious Van Life
While people from all walks of life are trying out the van life, virtually all of them share one thing in common: a passion for the outdoors and a desire to spend more time in beautiful wild places.
Sprinter van owners have become a huge part of the outdoor recreation world. It is critical that, as a community, we take steps to ensure that the beautiful places we love will be here for generations to come.
There are some ways that #vanlife is an inherently eco-friendly lifestyle. Additionally, there are things that you can do as a van owner to ensure that you are being environmentally responsible. Keep reading to learn about all the ways that you can live an eco-conscious van life.
Immerse Yourself in Each Destination
If you are trying to minimize your impact while traveling in a camper van, the obvious first step is to reduce the amount of fuel you consume. While Mercedes Sprinter vans do offer impressive gas mileage for their size and ability, they are not a fuel-efficient vehicle by today's standards–and many run on diesel fuel, the exhaust of which has additional impacts to the environment.
Of course, you bought your Sprinter van to travel with, and nothing should hold you back from that. But if you are committed to living your van life in an environmentally conscious way, you should consider how you can plan trips to drive less.
One easy way to do this is to simply visit destinations that you are excited about, and stay for longer periods of time–rather than bouncing around from place to place. Some people prefer to travel this way already, and for others it will take some adjustment.
We love how staying in one place longer allows us to explore and find hidden gems beyond the area's main well-known tourist attractions. Plus, setting up a home base in one campsite can create a more relaxing atmosphere for the trip and take away some of the stress that comes with bouncing from one destination to the next.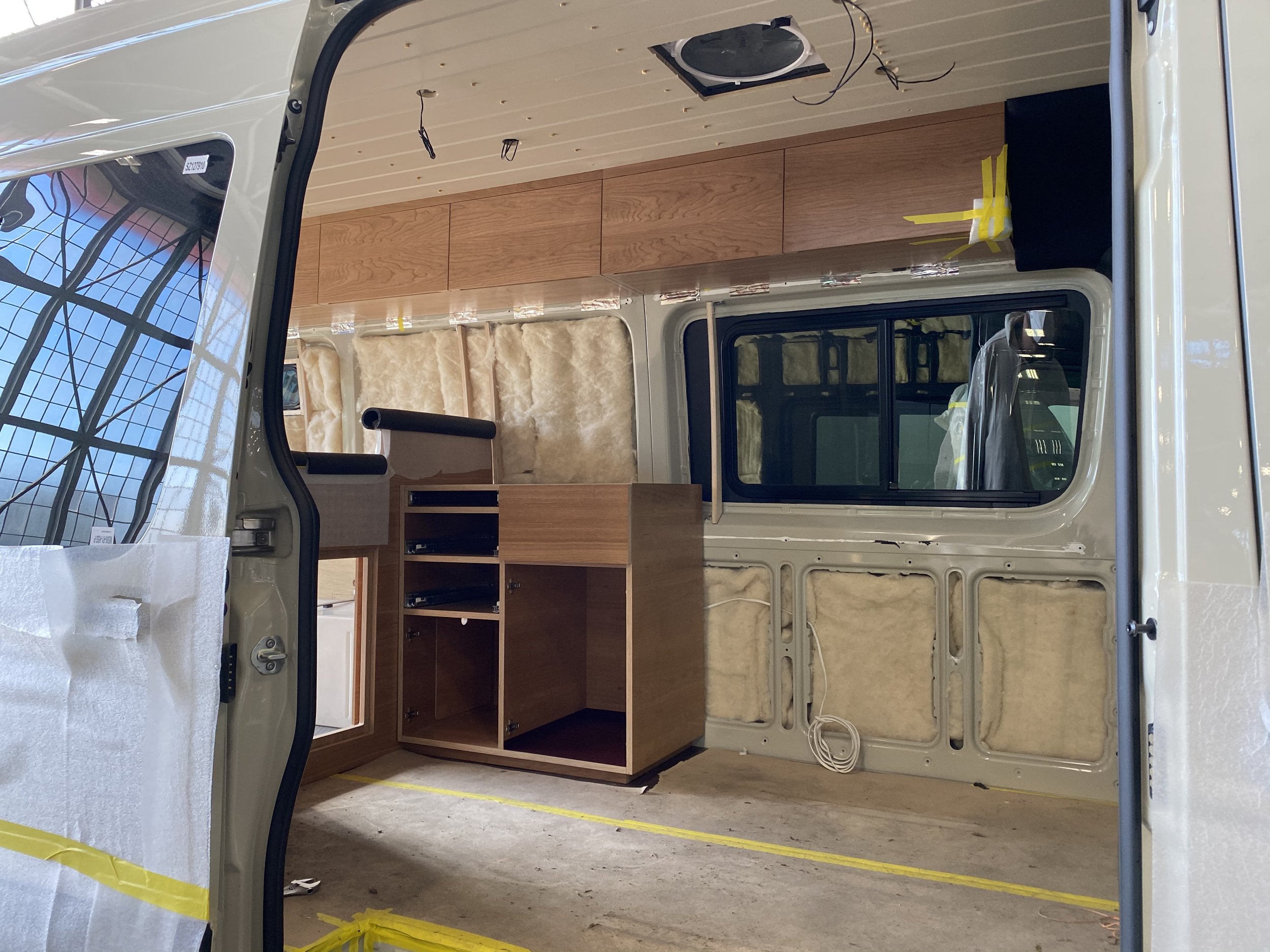 Use Sustainably-Sourced Materials in Your Build
Another major consideration for those wanting to increase the sustainability of their van life is the materials used in the build itself. If you are taking on a DIY Sprinter van conversion, then you will have full control over what building materials and components you include in your van. If you are hiring a professional van conversion company, you should talk to them about what they do to make their builds eco-friendly.
Here at Muse & Co. Outdoors, we believe that every camper van on the road should use green materials. In our builds, we use top-of-the-line sustainable materials without any compromise on quality, aesthetics, or functionality. Some of the sustainable materials we utilize are:
Marmoleum flooring: This eco-friendly flooring option is exceptionally durable, easy to clean, and easy on the eyes. Marmoleum flooring is derived from natural linseed oil, a product that comes from flax seeds. It is non-toxic for humans and its production has minimal impact on the planet.
Sustainably-harvested lumber: The effects of deforestation and destruction of old-growth forests are devastating for our planet. We use lumber throughout our builds that is harvested in a sustainable and environmentally responsible manner, and FSC-Certified because it's important to us that our children and grandchildren can explore the forests we enjoy today.
Havelock Wool insulation: Havelock Wool is a 100% sheep's wool insulation that is entirely sustainable and non-toxic. This insulation is better for the environment and for your health, and it out-performs all other camper van insulation options.
Low or no-VOC paints and finishes: Many paints and finishes contain harmful toxic compounds that are not only dangerous to humans but also damaging to plants and animals. We make sure to use paints and finishes with the lowest possible toxicity levels throughout our builds.
Paperstone countertops: Derived from non-petroleum resin and recycled paper products, these countertops are not only great for the planet, they are also extremely durable and they look great in our vans.
Conserve Water
One way that van life makes it easy to lower your environmental impact is through the conservation of water. Did you know that the average American family uses over 300 gallons of water each day? In the American West, and particularly in California, water use is increasingly at the forefront of conversations about environmental impact.
Almost 50% of the water we use in our homes goes towards the use of showers and toilets. Most camper vans either have no toilet, or include a cassette/compostable toilet which uses little or no water. Similarly, Sprinter vans tend to either not have a shower, or to include one which uses very little water. Muse & Co. Outdoors gives the option to have a Road Shower installed on your van, with its own separate tank(s) and passive solar heating.
With a water tank somewhere between five and fifty gallons, your Sprinter camper van simply does not not allow you to use as much water as while you are at home. Van life requires some lifestyle adjustments, but some of them, like conserving water, are better for the planet.
Go Solar
Having electricity onboard is part of what separates van life from regular camping. A power supply allows you to keep food cold in your fridge, run a fan on hot days, charge devices, and light up your van at night.
Solar power has become one of the most popular ways to charge camper van batteries. Sprinter vans with solar panels on their roofs can be seen everywhere. Muse & Co. Outdoors vans feature a standard solar power system that's extremely robust, coupled with a sizeable lithium battery bank.
The environmental benefits of solar are well-known. Any opportunity we get to reduce our reliance on fossil fuels should be taken. But the amount of power that camper vans use is relatively little–so does using solar really make a difference for the planet?
The answer is yes. Although your van's electrical system is quite small in the big picture of energy use in our country, adding solar to your rig still makes an impact. Green energy industries like solar and wind need consumer support to continue to innovate and make gains in efficiency and performance that make them more viable alternatives to fossil fuels. By adding a solar system to your camper van, you are investing in a renewable energy source and contributing towards the overall growth of the green energy sector.
There's no need to feel guilty about traveling in a Sprinter van. By following the tips in this article, you can enjoy the places you love while contributing to their preservation. Check out our models to learn more about Muse & Co. Outdoors vans and all the sustainable materials we use.