Sprinter Van Suspension Upgrades: Everything You Need to Know
Mercedes Sprinter vans are a popular option for camper van conversions. These high roof cargo vans are best-in-class when it comes to reliability, performance, and comfort. But it's important to remember that Sprinter vans are produced as utility cargo vans, and as such, they do have some limitations.
One common Sprinter van upgrade is to replace the stock suspension with higher-end suspension components. There are many benefits to upgrading your Sprinter van's suspension system, including better ride quality on and off-road, and increased safety. Keep reading to learn more about why you might want to upgrade your Sprinter's suspension, and how to choose the best suspension for your Sprinter van.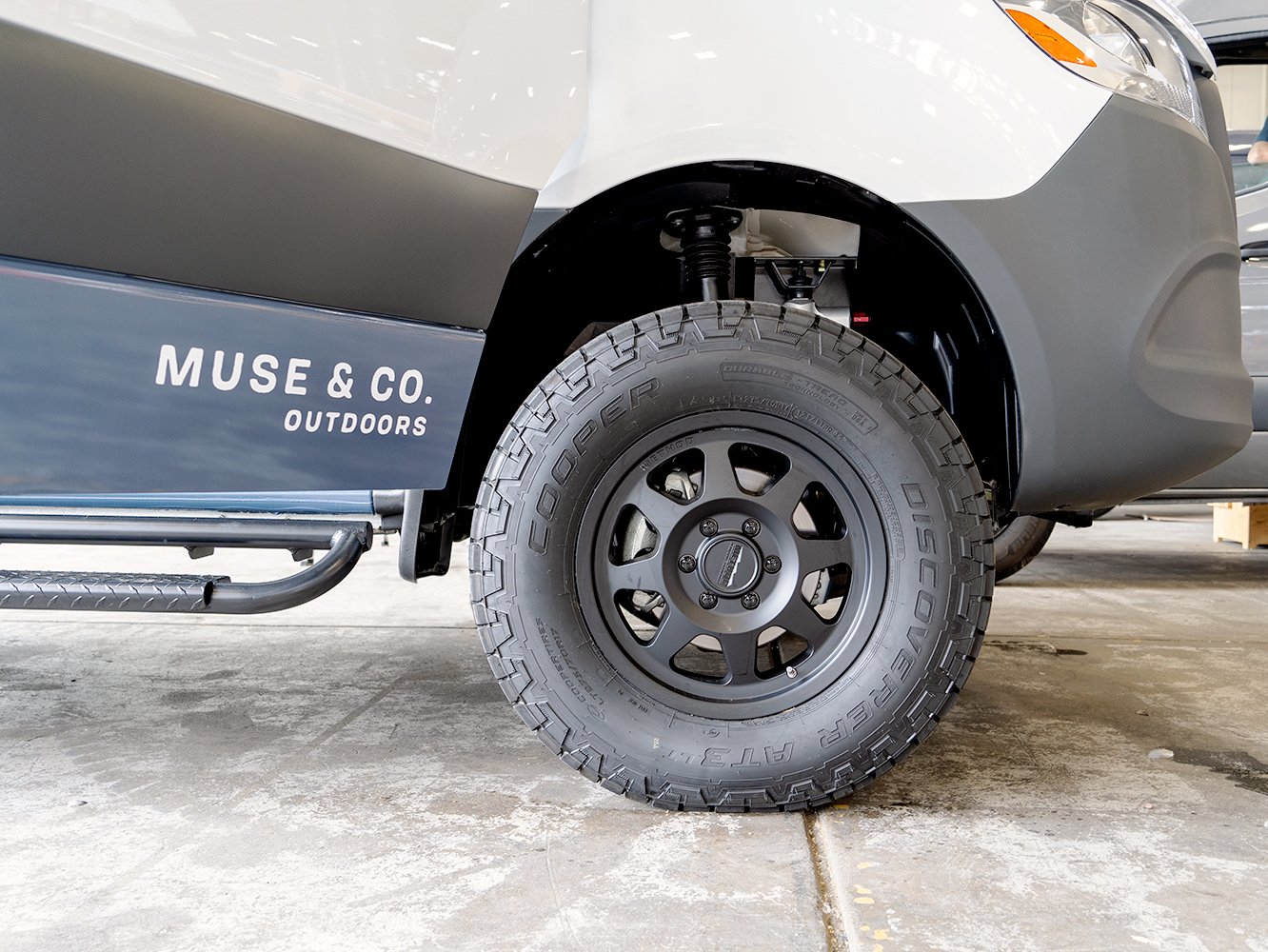 Reasons to Upgrade Your Sprinter Van's Suspension
Improved On-Road Handling
Many Sprinter van owners complain of poor ride quality. The ride can be stiff and jarring when going over bumps, with quite a bit of "body roll" when taking turns. With the right suspension upgrades, your van will take bumps smoother, and will feel more stable when turning. The result is an all-around more enjoyable and fun driving experience.
Improved Off-Road Ability and Handling
Many Sprinter camper van owners upgrade their van's suspension after taking one or two short drives off-road. If you are one of the many van owners that loves to explore dirt roads and find camping spots off the beaten path, you should seriously consider upgrading your van's suspension.
There are many off-road benefits of a proper suspension upgrade for your Sprinter van. First and foremost, you'll notice how much smoother your van is able to take bumps and dips in the road. You and your passengers aren't the only ones who will appreciate the smoother ride; your camper build-out will benefit, also. Too much off-road driving with a stiff and rough suspension leads to a lot of rattling things around–which will eventually take a toll on the components of even the finest camper van builds.
Finally, most high-quality Sprinter suspension upgrades will give your van a couple of inches of added clearance. A "lift" is a must-have for any van lifers who plan on driving off-road. The lift itself raises the body of your van higher off the ground. This is one aspect of ground clearance. It also allows for larger tires to be installed, which give your axles and differential, the lowest-hanging points on your van's undercarriage, extra clearance.
Improved Stability
Upgrading your Sprinter van's suspension can give you a safer, more stable ride. When taking turns and in strong crosswinds, the Sprinter van's relatively high center of gravity has a tendency to lead to "body roll", or the feeling that your van is leaning heavily to one side as you take a turn. Mercedes features like electronic stability control and crosswind assist do help with body roll, but an upgraded suspension will lead to a dramatic improvement in this area.
What is the Best Upgraded Suspension for Sprinter Vans?
Muse & Co. Outdoors, the Bay Area's top Sprinter van conversion company, is proud to offer the Van Compass Stage 4.3 system as an available upgrade for our camper vans. Van compass specializes in premier aftermarket components for camper vans. Their Sprinter suspension systems are widely regarded as the top option on the market.
The Stage 4.3 system has some unique features that set it apart from other suspension upgrades:
Fully Adjustable: The Stage 4.3 system gives you complete control over your Sprinter van's ride. They have a large knob which allow you to quickly and easily adjust the compression of the shocks. They feature three settings, or "positions", from softest to firmest ride. The softest setting is designed for off-road travel. This setting will help the shocks absorb the bumps of the road. The middle setting is for everyday driving, giving you a comfortable and smooth ride around town. Finally, the firmest setting is designed for traveling with heavy loads and/or during strong crosswinds.
1.25" of Lift: The Stage 4.3 kit from Van Compass will give your Sprinter van extra ride height without negatively affecting safety or performance. By maintaining the suspension's original geometry, the system does not affect your van's ability to maneuver quickly or stop abruptly.
"Piggyback" Reservoir Shocks: This kit features shocks that have a "piggyback" reservoir. This means that the oil contained inside of the shocks has an extra reservoir, meaning there is more of it than in a traditional shock and there is more space for it to go when the shock is compressed. Benefits of shocks with an external reservoir are many, including inreased shock travel, lower likelihood of overheating and performance loss under heavy use, and a longer lifespan Muse & Co. Outdoors is proud to be California's top Sprinter van conversion company. We offer beautiful artisan conversions with models suited for individuals, couples, or families. With premier craftsmanship, top-of-the-line materials and components, and a long list of available upgrades (including the Van Compass Stage 4.3 suspension system), we can help you into the Sprinter camper van of your dreams.