The 5 Best Western U.S. Winter or Spring #Vanlife Desert Getaways
Having a Sprinter camper van is all about being free to travel where you want, when you want. Sprinters are a great way to travel during COVID, and they let outdoor enthusiasts comfortably camp in the places they love the most.
You don't have to stop taking van trips when the weather turns cold. It might be snowy or wet where you live, but the southwestern U.S. is home to some amazingly scenic desert landscapes that offer great winter and spring weather and endless opportunities for outdoor fun. If you are looking to take a trip in your Sprinter van this winter or spring, keep reading to learn about the best desert getaways for #vanlife!
#5: Zion National Park
Zion is one of the country's most popular national parks, and if you've ever been then you know exactly why. The park's massive colorful sandstone walls, breathtaking views, and unique slot canyons make it one of the most beautiful places in the world.
Most people visit Zion in the late spring through early fall. But the park rarely sees snow at its lower elevations, and visiting during winter or early spring can be quieter and more relaxing than during peak season.
Some of Zion's campgrounds close during the winter months, but Watchman Campground, its largest, remains open year-round. All of the campground's 176 sites are reservable, and you can choose either an RV site with hookups or a tent site if you want to camp "off-grid" in your Sprinter van.
Zion is most well-known for its hiking and rock climbing. Most trails throughout the park remain open throughout the winter. It's a good idea to travel with a pair of micro spikes to wear on the bottom of your hiking shoes in case trails are icy. One thing's for sure about hiking during the winter and early spring in Zion: you are bound to see far fewer people than during the warmer months!
Rock climbing during the winter may sound miserable, but daytime temperatures routinely reach well over 50 degrees in the park during this time of year. Many climbers actually prefer the cool weather because it provides better friction on the rock than during the sweaty summer months.
#4: Joshua Tree National Park
The desert landscapes of far southeastern California are some of the harshest environments on earth. Temperatures here can soar above 130 degrees Fahrenheit during the summer. On the flip side, while most of the country is dealing with snow and cold temperatures, this area sees abundant sunshine and relatively mild weather during the winter and spring.
If you are planning a camper van road trip to the deserts of southern California, Joshua Tree National Park is a must-visit location. The park's namesake succulents and massive, jumbled rock formations make for a truly surreal and uniquely beautiful landscape. It's not uncommon for daytime temperatures to reach the 60's and 70's here, even during the heart of winter.
All campgrounds in the park are open during the winter, so you'll have plenty of options–even some sites that are first come, first served for those spontaneous weekend road trips. The pleasant winter and spring weather in Joshua Tree means that this is peak season to enjoy some of the park's world-class hiking and rock climbing.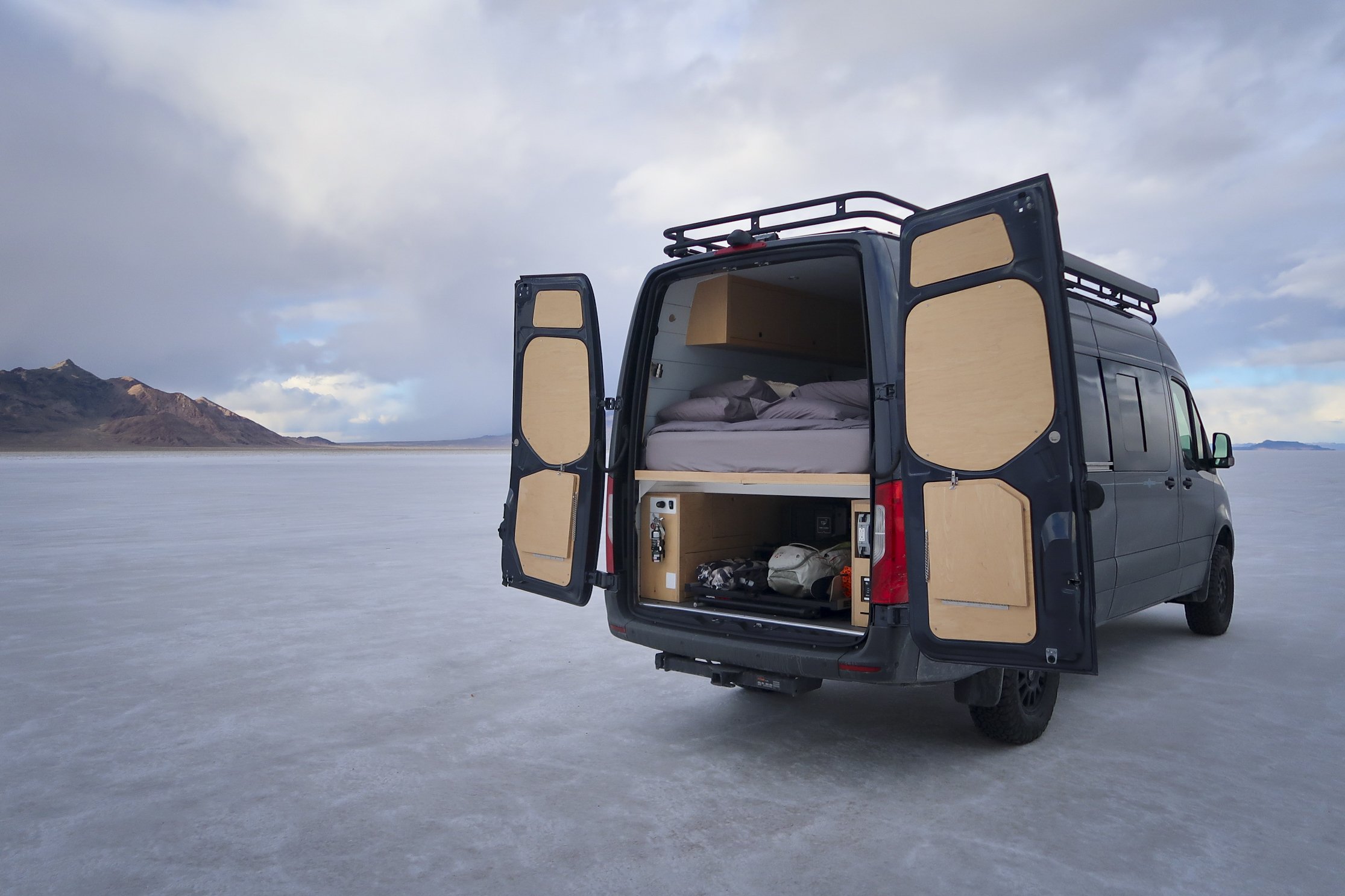 #3: Moab, Utah
You simply can't mention U.S. desert road trips without mentioning Moab and the nearby Arches National Park. The landscape here is defined by massive sandstone walls which tower above the winding Colorado river. Moab is home to some of the best winter and spring rock climbing in the country, as well as world-class mountain biking, hiking, and even some nearby skiing.
Moab is a true winter playground, with mild daytime temperatures, ample camping options, and all the amenities you need in town for an extended stay in the area. While you're here, you can't pass up a trip to Arches National Park, where you can hike right up to towering sandstone arches unlike any found elsewhere in the world.
Camping options are plentiful, and include both established campgrounds and nearby BLM land where dispersed camping, or "boondocking", is allowed in your Sprinter camper van for up to two weeks. If you need hookups, there are some RV parks located in and immediately around Moab. The Goose Island BLM campground is one of our favorite options, situated less than two miles from town and nestled right against the Colorado River.
#2: Red Rock Canyon, Nevada
Red Rock Canyon is a National Monument area located just outside of Las Vegas, NV. Some people are surprised to learn that such a pristine and unique desert landscape can be found just minutes from one of the Southwest's most sprawling metropolises.
The weather in Red Rock can vary somewhat during the winter and spring months, but in general this is the best time to visit with beautiful sunny days and near-freezing nights. What makes Red Rock special is its endless canyons to be explored, where hiking and rock climbing are the two most popular activities.
Camping in Red Rock is somewhat limited, but the BLM campground is a great option situated just minutes from both the canyons and Las Vegas. Sites here can be reserved and do tend to fill up on the weekends. Sprinter vans can occupy any of the sites at the campground, whether they are designated for tent camping or RVs.
One of the great things about visiting Red Rock Canyon is that its proximity to Las Vegas means you get to choose just how much time you want to spend in the wilderness. You can easily spend a week here without ever entering the city, but you also have the option to drive just a few minutes down the hill to get dinner, stock up on groceries, or even catch a show at one of the casinos.
#1: The 395 Corridor, California
Highway 395 runs north to south along the east side of the Sierra Nevada mountains in California. The "395 corridor" is one of those places that you simply have to see to believe, and once you have experienced it, you'll want to keep returning year after year. The weather here is more variable during winter and spring than in the other locations on this list, but with a bit of luck and knowledge of where to go, this is one of the most spectacular times to visit.
Almost all of highway 395 is beautiful, but in particular it's the area between Lone Pine, CA and Bridgeport, CA that you'll want to visit. The views of the mountains are spectacular in this region and weather tends to be relatively mild in the Owens River Valley, especially between Lone Pine and Bishop. The sagebrush here makes the air unmistakable fresh and fragrant.
Much of the land along Highway 395 is BLM, meaning dispersed camping is allowed along most dirt roads and pullouts. Bishop, CA offers plenty of dispersed camping in the surrounding area. The Owens River is highly accessible in this area along Chalk Bluff Road, and excellent fly fishing can be had through the winter months. Bishop is also home to some of the world's best winter and spring bouldering and rock climbing.
As you move north towards Mammoth Lakes, CA, the fun continues. Mammoth Mountain is one of the largest and most varied ski resorts in the U.S., and just minutes away along Benton Crossing Road, you'll find wild hot springs for soaking and taking in 360 degree views of the mountains. Mammoth does receive plenty of snow during the winter months, so it's best to plan trips here in the winter and spring only if you have a 4×4 Sprinter van or are able to go during a weather window.
Are you ready to hit the road and make these amazing desert trips a reality, but are missing one thing: a Sprinter camper van? Muse & Co. Outdoors is the Bay Area's premier Sprinter van conversion company. With multiple layouts to choose from, and even completed vans available for sale now, we can get you into your dream van before the winter/spring camping season is over! Contact us today to learn more.