The 4 Best Ways to Use Your Camper Van Roof Rack
Camper vans are big vehicles, and they're meant for people who go on big adventures. Still, compared to traditional RVs, camper van conversions are quite compact. A lot of camper van owners find themselves in need of more space than is available on the inside of their van.
That's where a roof rack can come in. A camper van roof rack can expand the capabilities of the vehicle in a variety of ways. The decision whether or not to add a roof rack could mean the difference between being able to take your van on the adventure of your dreams, or not. Keep reading to learn the top 4 ways you can utilize a camper van roof rack to get the most out of your rig.
Add An Awning to Your Camper Van
Awnings are an incredible addition to any camper van. Once you have one, you'll wonder how you ever took road trips without it! An awning is usually added to the side of your van's roof above the sliding door. But most awnings can only be mounted if there is a roof rack already in place!
Awnings are such a game-changer that many campervan owners choose to install a roof rack just so they can add one to their rig. Having a convenient area of shade outside of your camper van is a serious boost on hot summer days. And, when the rain starts to come down, you can deploy your awning to keep an area outside of your sliding door dry, which makes it much easier to keep your van clean and free of dirt and mud.
Haul Extra Gear Inside Your Camper Van
Probably the most obvious and common use for a camper van roof rack is to haul extra gear with it. Although camper vans are big vehicles, a lot of van users find themselves in need of some extra space for all their adventure gear. Whether you are a kayaker, surfer, or a family with lots of stuff to bring along, a roof rack can allow you to go on the trips of your dreams without having to leave anything behind.
Bulky Items
Camper van roof racks really shine when it comes to hauling big, bulky pieces of gear. Items like surfboards and kayaks are classic examples of gear that is just too big to fit inside of most camper vans. But just because it can't fit inside shouldn't mean you have to give up the activities you love while you're on the road. With a roof rack and some simple attachments, you can easily bring along hefty gear like kayaks and surfboards.
Extra Stuff
Your camper van roof rack isn't only good for carrying large items. It can also allow you to mount a cargo basket or rooftop cargo box, both of which are great for stowing smaller belongings. Extra cargo space is a must for many families who are traveling in a camper van, as well as for people on longer adventures who are carrying a lot of gear.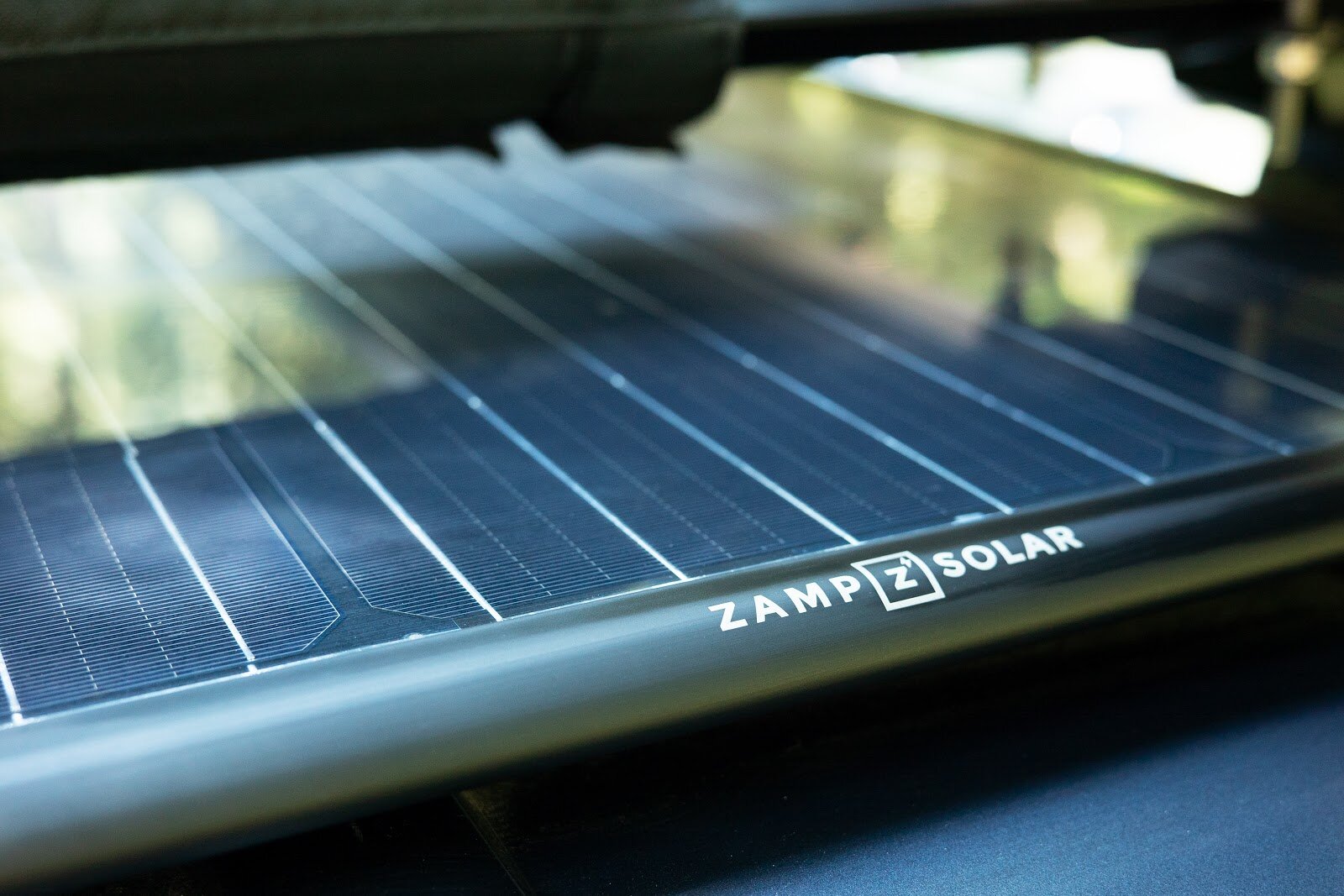 Mount Solar Panels on Your Camper Van
Solar panels have quickly become the most popular way to charge up camper van batteries. Many camper van owners rely on the sun to power their van's lights, fridge, fan, and more – as well as to charge their electronics. Naturally, the roof of your van is the best place to mount solar panels, as this is where they will see the most sun exposure.
Unfortunately, camper vans aren't made with modifications like mounting solar panels in mind. Doing so without a roof rack in place almost always involves drilling holes through the metal of your roof, which can lead to leaks, rust, and other issues. If the panels ever have an issue or need to be replaced, the process can be long and arduous. But with a roof rack, mounting solar panels is a simple process that involves no drilling into the roof of your van. And, performing maintenance or replacing the panels is simple and quick.
Mount a Road Shower on Your Camper Van
The Road Shower is a game-changing shower designed specifically for use on campervans. The simple design provides users with on-demand pressurized hot water. Using passive solar heating, the Road Shower only needs sunshine to produce up to 10 gallons of warm water. You can use the shower to rinse off after an afternoon surf, wash dishes, or even clean your muddy dog off before he gets in the van.
The catch? Road Showers require a roof rack to install them on your camper van. But as one of the only ways to have a reliable source of hot, pressurized water on the road without taking from your power supply and interior space, the Road Shower is reason enough on its own to install a roof rack.
Muse & Co. Outdoors offers the option to add a roof rack to your camper van build, complete with any combination of rooftop accessories you desire. Head over to our Options & Accessories page to learn more!