Quick Camper Van Getaways Near the San Francisco Bay Area
The San Francisco Bay Area is one of the most desirable places to live in the U.S., and it's easy to see why. A strong economy, rich and diverse culture, and a beautiful setting make the Bay Area an incredible place to call home.
While the Bay Area is beautiful, it also happens to be located within a few hours of some of California's greatest natural treasures. Places like Big Sur and Lake Tahoe are within a morning's drive of the Bay and offer a complete change of scenery. Its close proximity to beautiful nature also makes the Bay Area one of the best places in the world to own a camper van.
If you've been looking into Bay Area camper van conversions, or you already own a Sprinter van and live in the Bay, this article is for you! Below you will find some recommendations for quick camper van getaways within just a few hours of the Bay Area. Enjoy!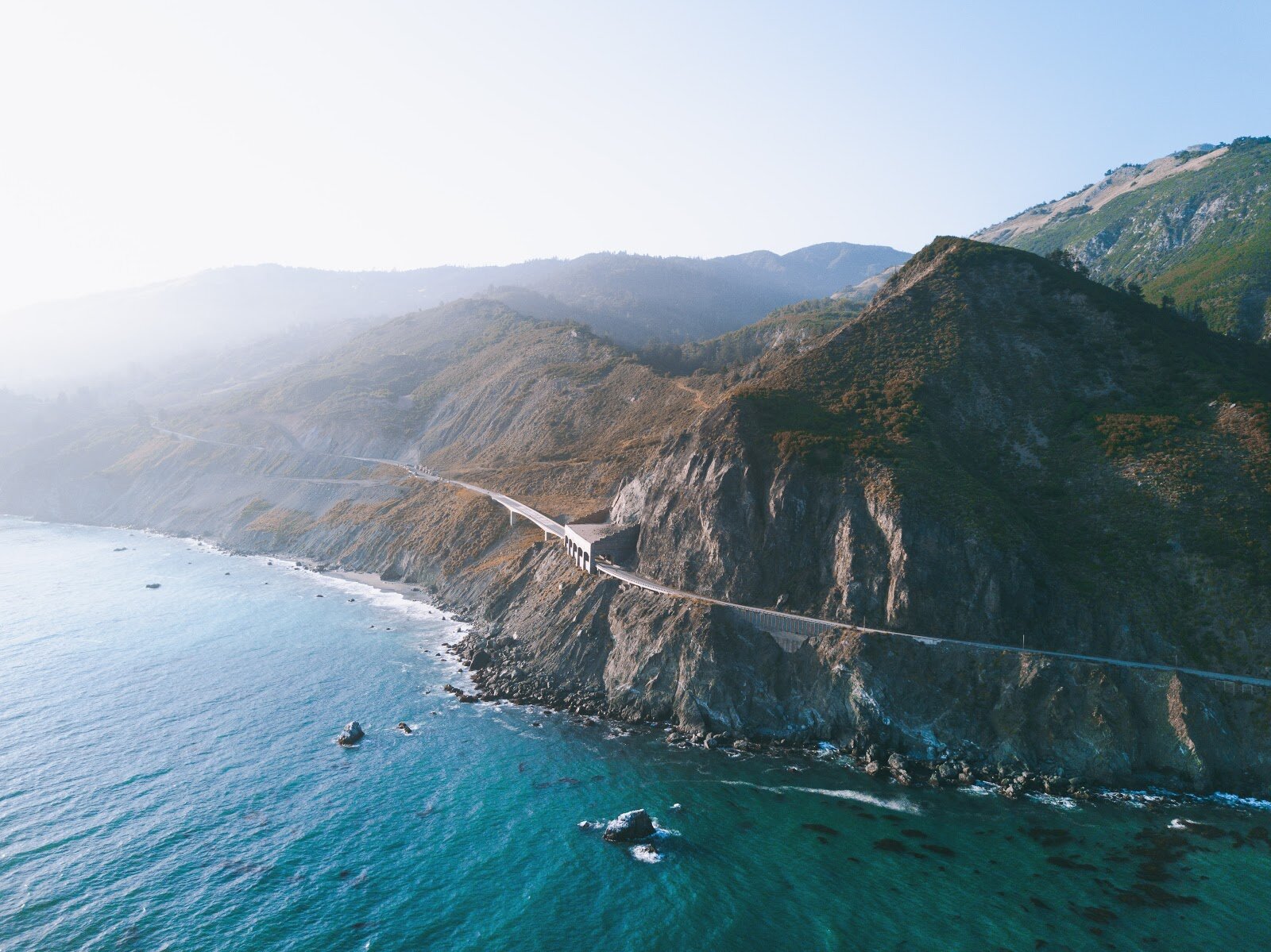 Big Sur Camper Van Road Trip
Big Sur is one of the most beautiful and rugged stretches of coastline in the world, and it's located only 2-3 hours south of San Francisco. The drive along Highway 1 down to Big Sur is beautiful in its own right, and there are plenty of things to do and see along the way. Big Sur's easy accessibility from the Bay Area, its breathtaking beauty, and its endless list of sights and activities make it one of our favorite weekend camper van trips from the SF Bay.
Highway 1
If you take Highway 1 south from San Francisco to get to Big Sur, there are several attractions along the way that are worthy of a pit stop. If you like to break up your drive and take your time along your route, check out these areas on your way down to Big Sur:
Half Moon Bay
Half Moon Bay is just a short drive south of San Francisco on Highway 1. This quaint little coastal town features great beaches, world-class surfing, beautiful hikes amongst coastal redwoods, and convenient camping. If you pass through during a winter swell, be sure to check out Mavericks, where you can get a view of some of the world's best big wave surfers riding massive waves.
Santa Cruz
Santa Cruz is a well-known city situated on the north side of Monterey Bay. With great restaurants, gorgeous beaches, amazing surf, and world-renowned hiking and mountain biking, Santa Cruz is an outdoor enthusiast's dream city. Stop and have dinner on your way back home, or visit the Beach Boardwalk with your kids.
Sprinter Van Camping in Big Sur
There are plenty of great camping options once you make it down to Big Sur. Fernwood Campground, Plaskett Creek Campground, and Kirk Creek Campground all offer tent sites with parking that will fit a camper van and basic amenities like bathrooms and running water. Of the three, Kirk Creek is the most sought after, as it is the only campground in Big Sur located on the western (ocean) side of the highway. Most campgrounds in Big Sur offer a mix of reservation only and first-come-first-serve campsites, so an impromptu trip down the coast isn't out of the question.
If you prefer free dispersed camping, head up Nacimiento Fergussen Drive, which is a paved road that features several pullouts where you can spend the night. There are also incredible vistas along the road, so try to catch a sunset up here, if you can.
What to Do in Big Sur
Okay, Big Sur is beautiful, but what is there to do there? We know the Bay Area Sprinter van community is an active bunch, and fortunately there are plenty of opportunities for outdoor recreation to keep you busy while in Big Sur. Below are some of our recommendations for what to do while you're in the area.
Cycling
Whether you are a mountain biker or you stick to the pavement, Big Sur offers some incredible trails and roads to spin the gears on. Highway 1 offers legendary views and challenging climbs for experienced road cyclists, while mountain bikers will enjoy the plethora of trails in the area such as the Rocky Ridge Trail and Old Coast Road.
Hiking
Big Sur offers a lifetime's worth of hiking trails, and most of them are stunningly beautiful. For an easier jaunt that features a beautiful waterfall, check out the Overlook Trail to McWay Falls. For a longer hike, the Timber Top and Boranda Trail features breathtaking views of the Big Sur coastline and is about 5 miles in length.
Surfing
The surf in Big Sur is remote, cold, and rough – but experienced surfers who are willing to brave the conditions can be rewarded with excellent waves and entire breaks to themselves. The north end of Molera Beach features one of Big Sur's more popular breaks, while Willow Creek offers a more secluded setting.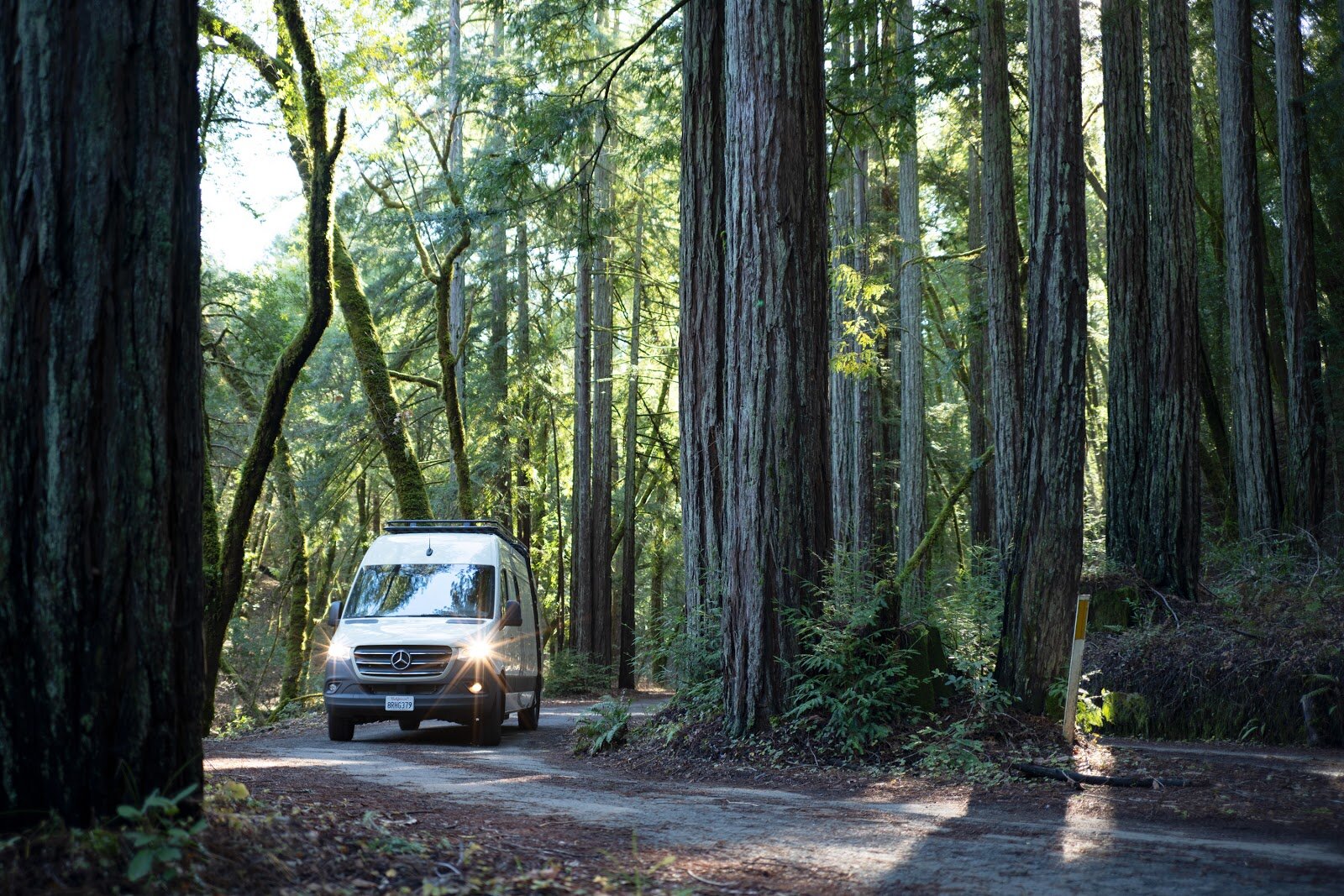 Tahoe Camper Van Road Trip
The Lake Tahoe basin and the surrounding mountains and forests are home to some of the most beautiful scenery in the United States. "Tahoe" encompasses a large area of the Sierra Nevada Mountains, stretching from areas around Truckee, several miles north of the lake, south to Kirkwood and the Highway 88 corridor.
With incredible views, plenty of dispersed and developed camping, and endless ways to get outside and enjoy the land, Tahoe is a Sprinter van owner's dream. Plus, many of the best places to play in Tahoe are within 3 hours of the Bay Area! Below, you'll find our camper van guide to Tahoe broken down into 3 of Tahoe's best areas to recreate.
Truckee/Donner Area
Truckee is a small town located about 20 miles north of Lake Tahoe, but locals and visitors alike consider Truckee to be part of the greater Tahoe area. Truckee has its own large alpine lake, Donner Lake, where you can engage in many of the same summer activities you might find yourself doing on Lake Tahoe.
Nearby Northstar-at-Tahoe and Sugar Bowl ski resorts offer great skiing in the winter and mountain biking during the summer. Donner Pass holds a massive amount of excellent rock climbing and hiking. The town of Truckee is small and quaint, with several restaurants and shops in its downtown area.
Sprinter Van Camping Near Truckee
There are an abundance of places to camp near Truckee, including both established and off-grid campsites. For established camping with amenities like a bear box, fire pit, bathrooms, and showers, our top choice is Donner Memorial State Park Campground. The campsites are nestled amongst the pines on the eastern shore of Donner Lake, putting you just minutes from downtown Truckee, the I80 corridor, and the lake's shore.
Truckee is surrounded by national forest on all sides, with virtually endless fire roads and pullouts worth exploring. If you like the solitude and adventure of off-grid camping, you should have no trouble finding a great spot within 20-30 minutes of town. Those with 4WD Sprinter vans will be able to access spots down some of the rougher dirt roads in the area.
Around the Lake
Although generally more crowded, it's hard to argue against wanting to stay in the immediate vicinity of Lake Tahoe itself while you're in the area. You can get astounding views of the lake's crystal blue waters and surrounding mountains from all of its shores. Tahoe's most developed areas lie on the lake's north and south shores, so if you want to stay closer to civilization, those areas are good bets.
Ski areas like Heavenly, Homewood, and Diamond Peak are all within a few miles of the shoreline and offer astounding views of the lake while you ski. During the summer months, check out the beaches and hiking near Emerald Bay on the southwest corner of the lake, then head to South Lake Tahoe for a beer at one of the local breweries.
Sprinter Van Camping Around Lake Tahoe
The areas directly surrounding Lake Tahoe are generally more developed than other regions of the basin. Moreover, the undeveloped areas tend to fall on state park land, rather than national forest. This means that dispersed, off-grid Sprinter van camping is hard to come by around the lake.
Not to worry though, the plethora of state parks means there are several developed campgrounds to choose from, many with sites that are within walking distance and offer views of the lake. If you can plan far enough in advance, we recommend snagging a site at D.L. Bliss State Park Campground on the lake's west shore. When you choose a site, take a look at the campground map to see which sites are closest to the water. There are some sites with truly stunning vistas that are a stone's throw from Lake Tahoe's shores!
Highway 88/ The Kirkwood Corridor
The Highway 88 corridor is one of the most wild and uncrowded areas near Lake Tahoe. For those who like to avoid the crowds and really get out and explore, a trip to this area makes for a great long weekend away from the hustle and bustle of the Bay Area.
During the winter, Kirkwood Mountain Resort offers some of Tahoe's steepest and highest elevation terrain, as well as plenty of easier terrain for all ability levels. During the summer, the surrounding area is a wonderland for bikers, hikers, fishermen, and climbers. This area is especially spectacular during early fall, when the numerous large aspen groves on either side of Highway 88 begin to turn.
Sprinter Van Camping Along Highway 88
Virtually the entire Highway 88 corridor runs through national forest land, which means that opportunities for off-grid Sprinter van camping abound. Get in touch with the local national forest offices to ask about dispersed camping in the area you want to go. There are many beautiful sites tucked just off the highway with minimal road noise and plenty of privacy.
You can also find several developed Forest Service campgrounds in this area. Our favorite is Kirkwood Campground, which offers running water, bathrooms, and bear boxes for food storage. Nearby Kirkwood Lake has great fishing and several hiking and biking trails.
Are you looking for a Bay Area Sprinter van conversion company? Muse & Co. Outdoors is a trusted builder based in Oakland, CA. Check out our models and find more information here!