7 Reasons Why #Vanlife in Camper Vans is Better Than Tent Camping
If you've experienced both van camping and tent camping, then you're probably not reading this article. There's really no question that camping in a Sprinter conversion van is way better than roughing it in a tent.
If you still need a little convincing, we put together this list of reasons why the camper van #vanlife is better than tent camping. Don't take our word for it, though–just ask any of the thousands of people who have recently begun their Sprinter van journey!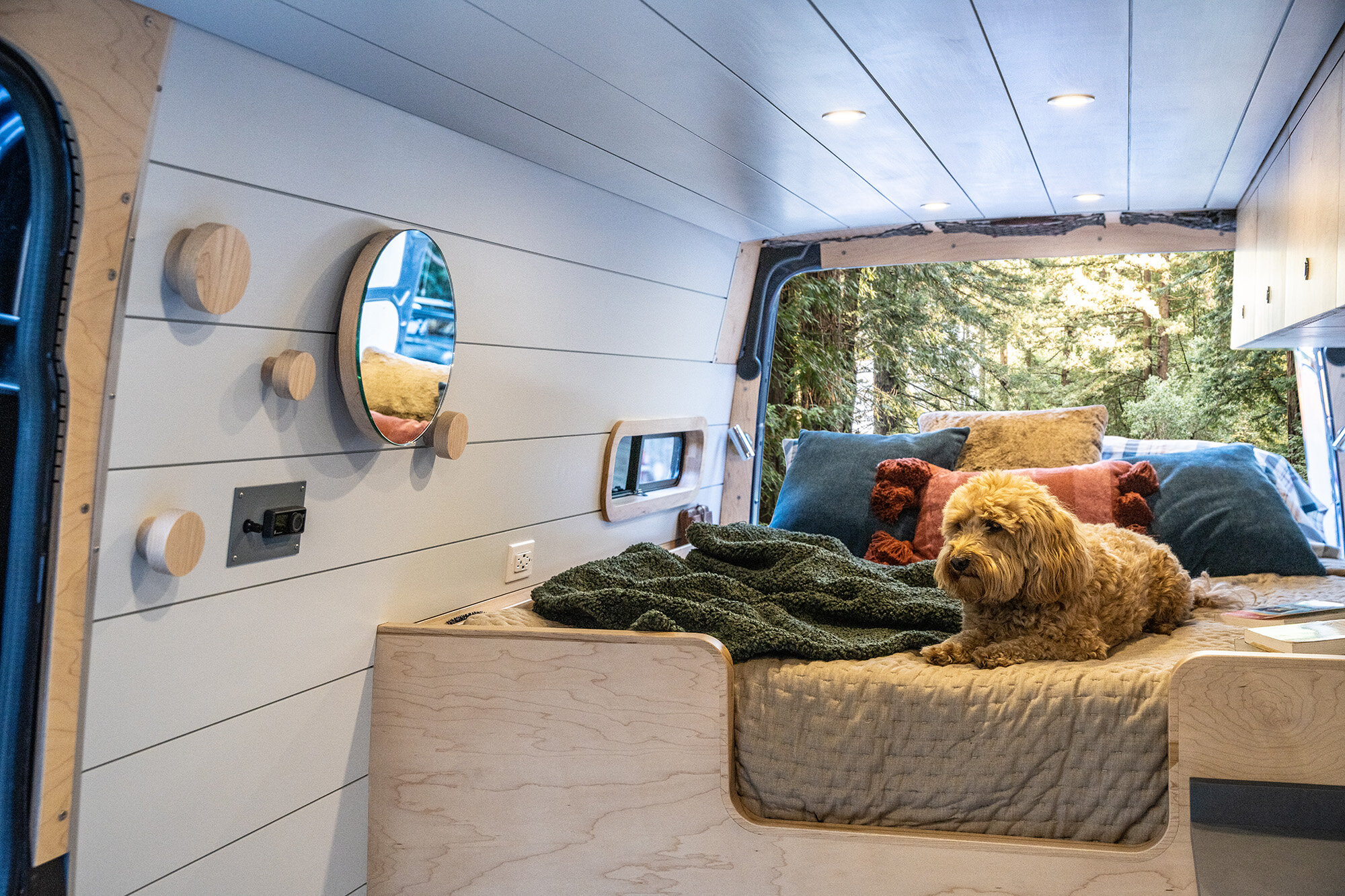 1) No Setting Up Camp
Some people might enjoy the ritual of unpacking the tent, finding the flattest spot at the campsite, and setting up a cooking and seating area. But once you get a taste of how easy it is to "set up" a camper van, it's hard to go back.
All you have to do when you arrive at camp in a van is find a flat place to park, open up the fridge, and crack a cold one! Your shelter is already in place, your bed is made, and your kitchen is ready to prepare dinner. Plus, if it's raining or cold outside, you don't have to endure the elements. You'll stay warm and cozy inside your van.
2) Sleep in a Real Bed
When's the last time you slept on a queen-sized Casper mattress in a tent? Didn't think so. One of the great things about camping in a van is that you can have a quality mattress with real bedding.
A blow-up pad and sleeping bag are no comparison to getting a great night's sleep on a comfortable mattress just like the one in your home. Getting a good night's sleep while camping helps you to relax and enjoy full days spent exploring outside.
3) Security
One tough thing about tent camping is that there's nowhere safe to store valuable items. Even your sleeping bag, pad, and tent itself could be stolen if you leave your camp set up while you're out and about during the day.
Camper vans provide a secure place to store belongings during the day. Plus, if you are camping in an area with bears, your food can stay securely inside of your van as long as you roll up the windows and lock the doors when you leave. You should still follow local guidelines and use a bear locker when available, but bears in most areas will not pursue food inside of a locked vehicle.
4) Your Own Personal Electricity Supply
A Sprinter van conversion isn't complete without an off-grid 12-volt electrical system. Camper vans use their electrical systems to power appliances like the lights, fan, heater, and fridge, and to charge devices like phones and laptops. While tent camping, you're lucky if you can even keep your phone charged!
Having a consistent supply of electricity while you're out camping allows for a much more comfortable and enjoyable experience. You can still always unplug, turn off the lights, and sit by the fire while gazing at the stars. But you'll love having ample light when you're cooking, a fan to cool you off on hot days, and the ability to work on your laptop while on the road.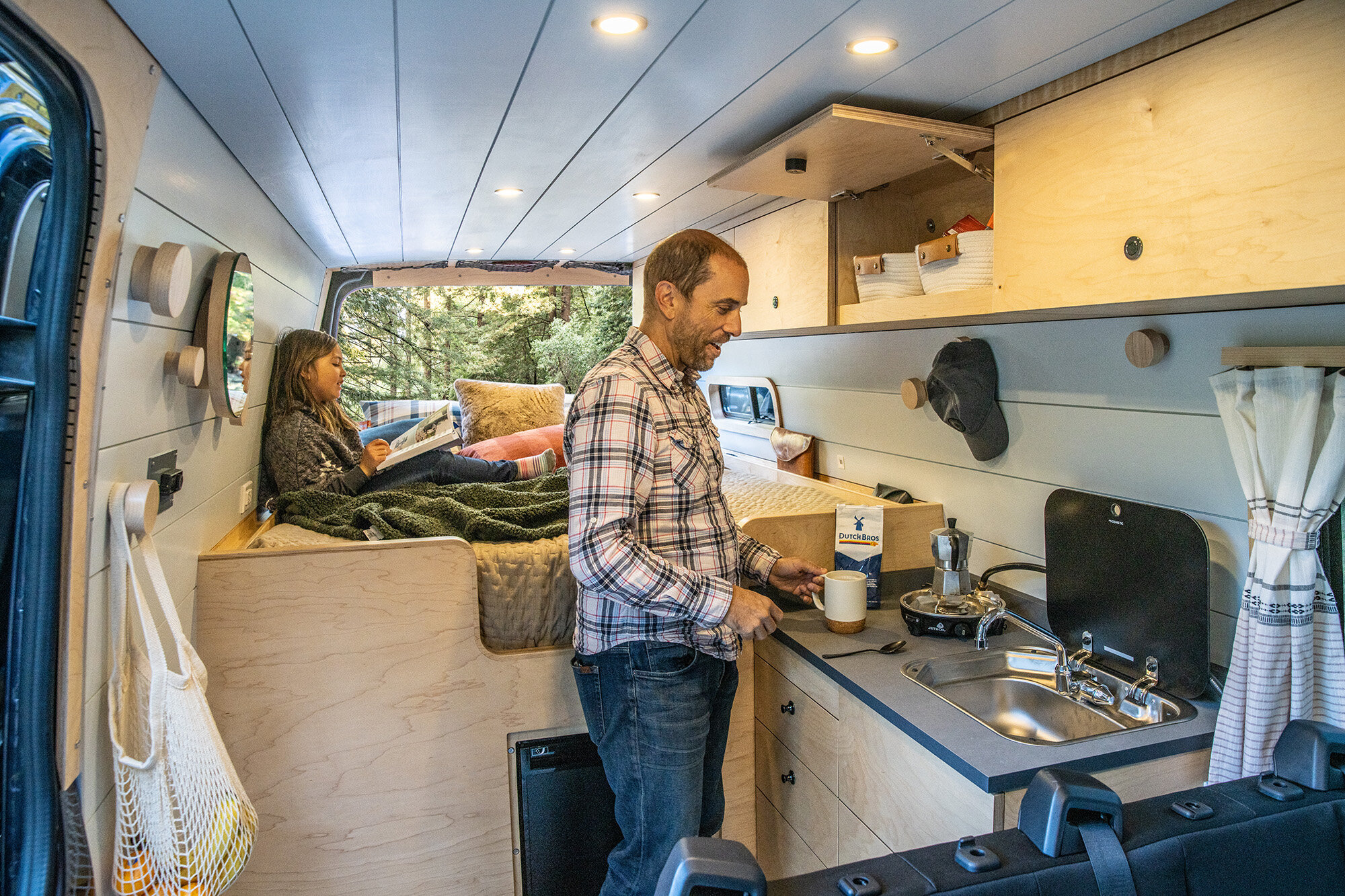 5) A Full Kitchen
Let's be honest…Cooking while camping is a total pain in the butt! But what if you had access to a full kitchen while you were on the road–with a sink, a built-in stove, a fridge, and more counter space than most New York City apartments?! This is what you get when you travel in a custom Sprinter van.
Say goodbye to draining the water-filled cooler, chopping veggies on the flattest rock you can find, and trying to wash dishes in a bucket! With a fully-stocked camper van kitchen, you can make many of the meals that you enjoy at home. With appliances like a fridge, sink, and stove, ample cabinet space for cookware and utensils, and enough counter space to comfortably prepare food, cooking in a camper van kitchen is easy and fun!
6) Climate Control
What if we told you that camping in the mountains during winter could actually be enjoyable? Or that you could enjoy shade and the refreshing, steady breeze of a fan while camping on the coast during a hot summer day? With a Sprinter camper van, you can!
The ability to control the temperature inside of your van is one of the major advantages of this form of camping. Sprinter van conversions can come equipped with a thermostat-controlled heater and a roof vent with fan (All Muse & Co. Outdoors vans come standard with these features). They can also be insulated effectively, so you can keep the warmth in on cold nights and the cool air in on hot days.
Having a true barrier between you and the elements, as well as the option to control the temperature inside of your van, makes camping infinitely more enjoyable when the weather outside is less than perfect.
7) Bring Along all Your Gear
Sprinter vans are big vehicles, and having so much space comes with some serious benefits. If you've ever tried to pack bikes, surfboards, and all of your tent camping gear into a small car, you know how difficult it can be to make everything fit.
With a camper van, you'd be hard-pressed to find gear that you can't bring along for the ride. You can even add a full-length roof rack to your Sprinter van's roof, expanding the possibilities for carrying larger gear like kayaks and surfboards. Many people live out of their camper vans full-time, so finding the room for a weekend or even weeks-long trip should be no problem!
Are you ready to ditch the tent and start living your #vanlife dreams? Muse & Co. Outdoors is the top choice for Sprinter van conversions in the Bay Area. We offer models to accommodate families, couples, and solo travelers, with virtually infinite options to customize your van and make it your own. Check out our Build My Van tool to get started on your build today!