Tips for Staying Organized in a Camper Van
Most of the best things about having a Sprinter camper van have to do with its compact size. The fact that you can drive it safely and easily in a city, being able to fit in tight camping spots, and great gas mileage are all major benefits of a Sprinter's modest footprint.
There are challenges that come with traveling in such a tiny home on wheels, too. If you don't take care to keep your Sprinter camper van organized, things can get messy and cluttered quickly. While it's possible to fit amenities like a queen-sized bed and full kitchen into a camper van and still maintain a spacious feel, it is also possible to feel claustrophobic and overwhelmed by the amount of stuff you have in such a small space.
Use the organization tips you find in this article to keep your Sprinter camper van feeling spacious and free from clutter.
Maximize Your Drawer Space
Drawers are a fantastic way to keep items securely stored in a camper van. From kitchen utensils, to food, to socks and underwear, you can store just about anything you might take on the road in a drawer. The main benefit of drawers, as opposed to standard cabinets, is that they allow you to easily access items towards the back.
It's very important for your camper van's organization that you keep items neatly arranged in your drawers and maximize the space they offer. For many items, a drawer divider tray will be very helpful. Small items like tools and utensils take up much more space than needed when they are placed loosely in drawers. A drawer divider keeps items organized and separated. It also allows items to be stacked, utilizing more of a drawer's vertical space and freeing up surface area for other items.
You can also make custom drawer dividers, or talk to your van builder about having them made for you. A custom divider is great for things like plates and bowls in a camper van, because it can be built to maximize drawer space and hold your items securely in place while driving.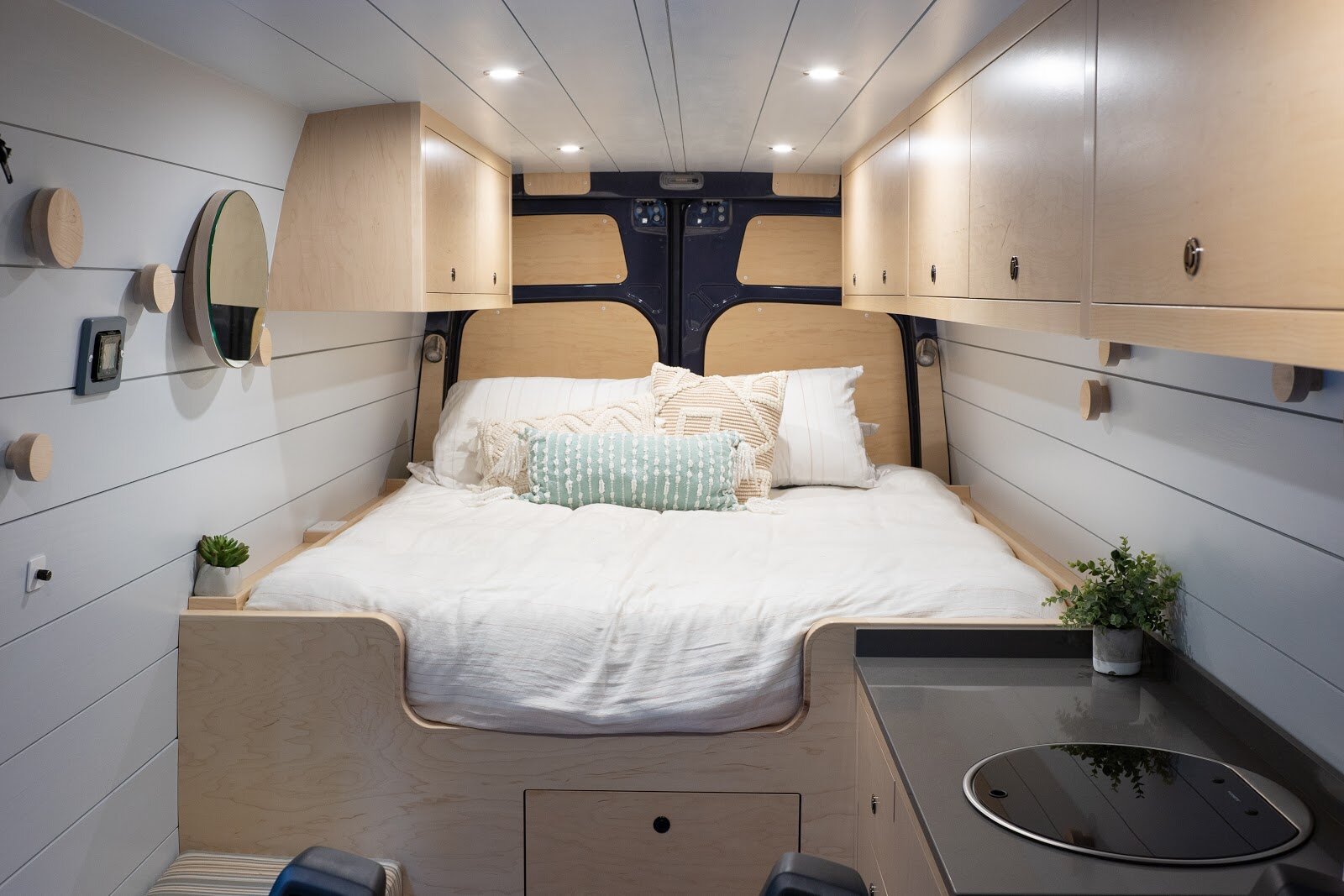 Wall Hooks for the Win
Some empty wall space in your camper van interior is key to maintaining an open and spacious feel. But your wall space also holds the potential for storing items and enhancing the organization of your van. Utilizing wall hooks is a great way to organize certain items – just be sure you don't overdo it to avoid a cluttered feel.
Jackets are an item that are ideal for wall hook storage. They are a bulky item that takes up LOTS of cabinet space if you try to store them away. Plus, it's nice to have quick access to coats so you can grab one before heading outside on chilly evenings. Hanging a jacket or two on strategically placed wall hooks can actually enhance the coziness and home-like feel of your van, while helping to organize it.
Other items that work great when hung on wall hooks include fruit hammocks, headlamps, and toiletry bags.
Have a Designated Laundry Space
Camper vans are small, which means any amount of clutter is immediately noticeable and extra disturbing. Dirty laundry is an inevitable part of being on the road, and how you deal with it can play a big role in how organized your Sprinter van is.
We recommend designating a cabinet or another out-of-the-way nook for storing your dirty laundry. Using a stuffsack can be helpful for compacting the laundry so it doesn't take up extra space. Try to choose a place for laundry that is accessible from the cabin, but hidden away enough that it's not encroaching on your space. Rear overhead cabinets or underbed storage areas are good places to keep laundry in a camper van.
Of course, storing your laundry in a designated cabinet has another major benefit: managing odors. If you're biking, running, hiking, or playing outside in another way, chances are you're going to be dealing with some smelly laundry. While this may not be a big deal in a large house, any smells in your camper van are going to be easily detectable. Storing your laundry away takes care of this issue.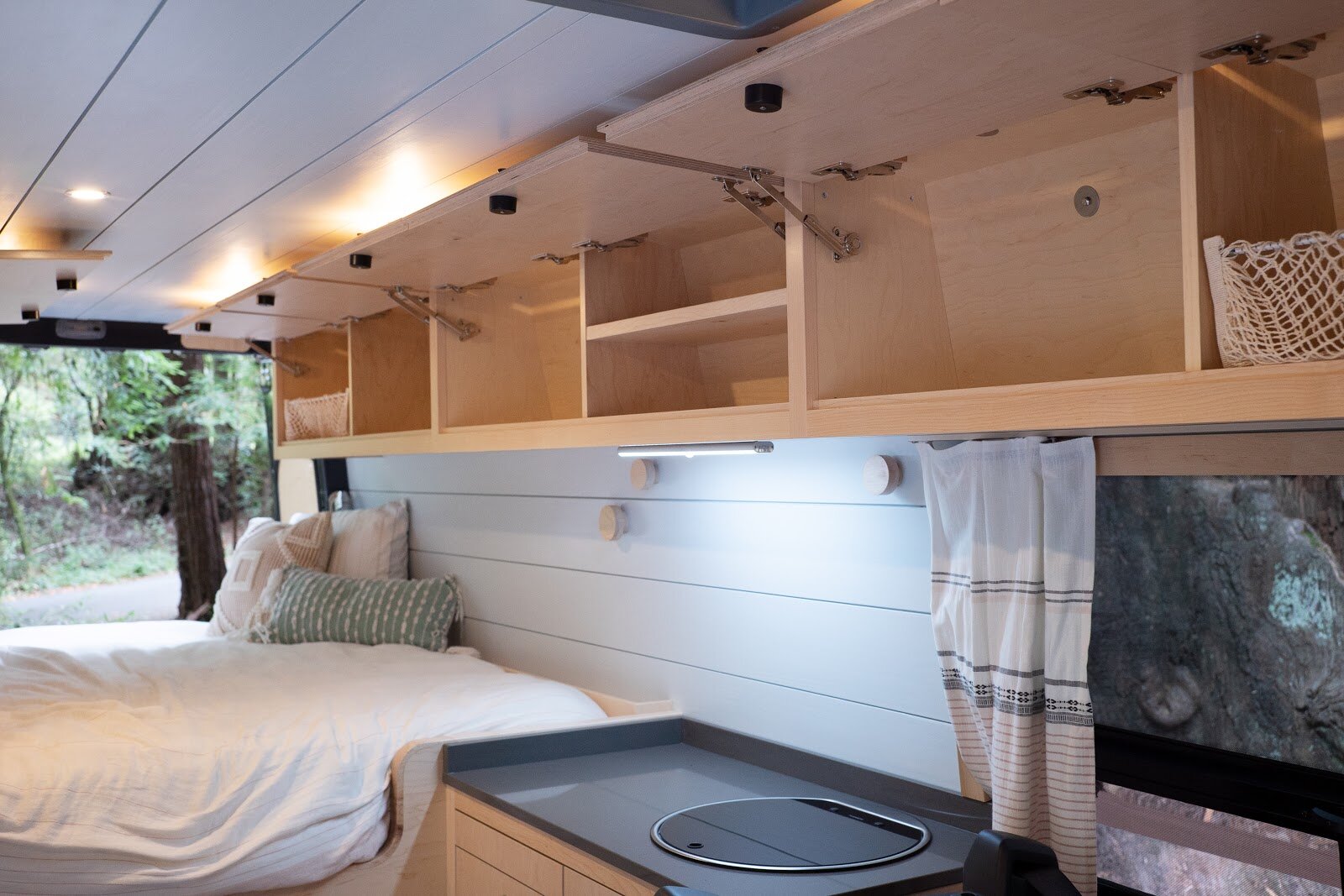 Practice Minimalism
The #vanlife movement and the minimalist movement have grown side-by-side in recent years, and it's easy to tell why. Many #vanlifers are moving into their rigs for extended periods of time, and doing so requires a major downsizing of personal items.
Even for those who are using their van for shorter trips, practicing the basic tenets of minimalism can go a long way towards keeping your van tidy and organized. Of course, at the center of minimalism is the idea that you don't need very much stuff. This concept should certainly be kept in mind while packing your Sprinter camper van for road trips. Bring what you need, but don't go crazy with packing multiples of things.
Try to get creative with multi-functional items, and keep this practice in mind when packing clothes. Rather than packing a raggedy old pair of hiking pants and your nicest jeans, do you have a pair of pants that can be worn both hiking and out to dinner? These types of packing decisions can make the difference between an organized van, and a cluttered one.
Of course, the very best thing you can do for camper van organization is to buy a camper van that has a well-designed interior with plenty of creative storage solutions. Here at Muse & Co. Outdoors, we're proud to be crafting some of the most beautiful camper van cabinetry out there, with innovative storage features such as our integrated Bedslide in the rear. Check out our details page for more information!
One response to "Tips for Staying Organized in a Camper Van"