5 Overlooked But Important Camper Van Features
If you're in the market for a Sprinter van conversion, then you probably know by now that the list of features that can be added to a camper van is virtually endless. From swiveling captain's chairs to underbed storage, custom Sprinter vans can be outfitted to accommodate just about any outdoor lifestyle.
Some features tend to get less attention than others, but that doesn't necessarily mean they are less important. In this article, we expose some commonly overlooked camper van features, and tell you why every van needs to have these essential components.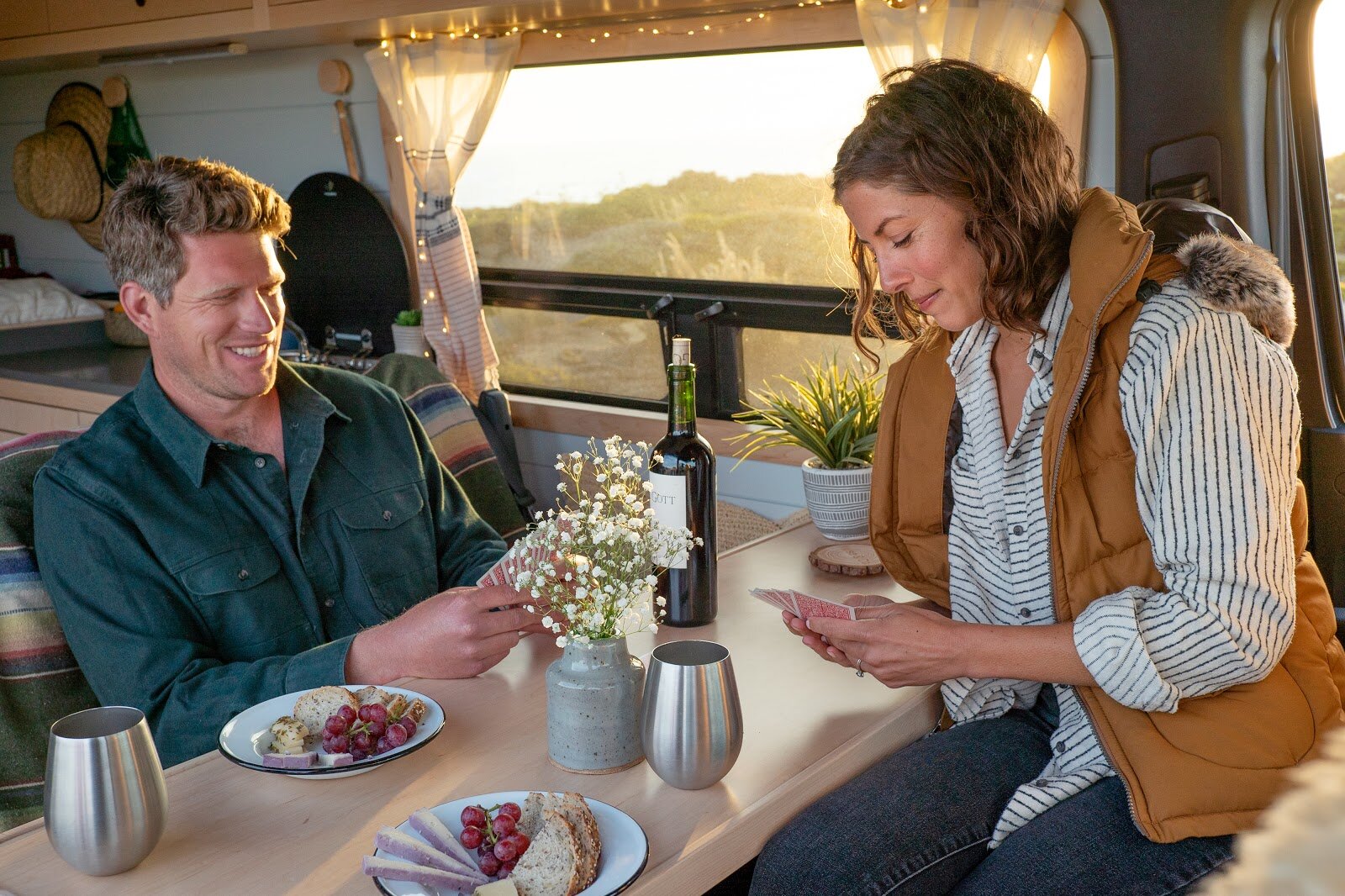 1. Effective Insulation
Keyword: effective. Nearly every professional van outfitter will add some type of insulation to the walls and ceiling of their builds, but all insulation is not created equal. Good insulation is a critical component of any quality van build. Camper van insulation should do two things effectively: regulate temperature, and regulate moisture.
In order to keep warm air in when it's cold out, and cool air in when it's hot out, camper van insulation should have a high R-value (a measure of an insulation's effectiveness in regulating temperature), and should be added in every possible area of the van.
The second important job of insulation in camper vans is to prevent condensation from building up and damaging the build by creating woodrot and other issues. Havelock Wool, which is a natural sheep's wool insulation utilized by Muse & Co. Outdoors, naturally regulates moisture by absorbing condensation when the air is saturated, and releasing it slowly into the air as it dries out. This property protects the components of your camper van build and ensures that you stay comfortable and dry in all environments.
Another bonus of Havelock Wool is that it is a completely natural and sustainable product, with zero harm to human health and minimal impact on the environment.
2. Dry Heat
One great thing that separates van life from tent camping is that you can really get out of the elements when the weather gets rough. That's why having a heater in your van is such a great feature. Nothing beats being warm and cozy inside your little home on wheels while temperatures drop outside.
Many camper vans come with heater options, but there are some heater types that you will want to avoid. Many propane heaters are meant for use outdoors or in a ventilated environment. They not only produce deadly carbon monoxide as they are used, they also create condensation in the environments they heat. In a camper van, this spells trouble. Instead, you'll want to go with a ventilated source of heat that is able to warm your van while venting CO and condensation to the outside.
Here at Muse & Co. Outdoors, our vans come equipped with an Espar D2 heater, which provides safe, dry, thermostat-controlled heat and taps into your Sprinter van's diesel fuel tank to power itself! If you have a gasoline-powered van, we can install a small diesel tank to accommodate.
3. Quality Build Materials
When it comes to purchasing a home, some of the first things we check for are a sound foundation and the quality of the building materials and woodwork. When purchasing a converted Sprinter van, you should be paying attention to similar things.
When it comes to camper van interiors, all components of the build need to be as sturdy and secure as possible to deal with the constant bumps and movement from the road. One of the first things you should look for when purchasing a camper van is the quality of the materials used in the cabinets, walls, and other structural areas of the build.
At Muse & Co. Outdoors, we use furniture-grade wood for all of our cabinetry. Our interiors are built to withstand the bumps and twists of the road, for many years to come.
4. Ventilation
A camper van is a small and enclosed environment, and it's essential to have airflow inside when you want it. Most vans come equipped with a ceiling vent fan that can either push air into the van, or pull it up and out.
A fan is a great way to keep things fresh inside your van. But unless you have windows that can be opened, the vent fan will be much less effective. Two great locations to place windows are near your kitchen area, and near the bed. You can then set the vent fan to pull air out through the ceiling, creating a cool breeze over your sleeping area, and pulling any cooking odors up and out of the van.
All Muse & Co. Outdoors vans come equipped with a Maxxfan Deluxe automatic ceiling fan with remote, so you don't even have to get up out of bed to get some air flowing through your space. Plus, the Maxxfan features a rain-proof vent cover, meaning you can have the vent open and the fan on, even if it's raining outside.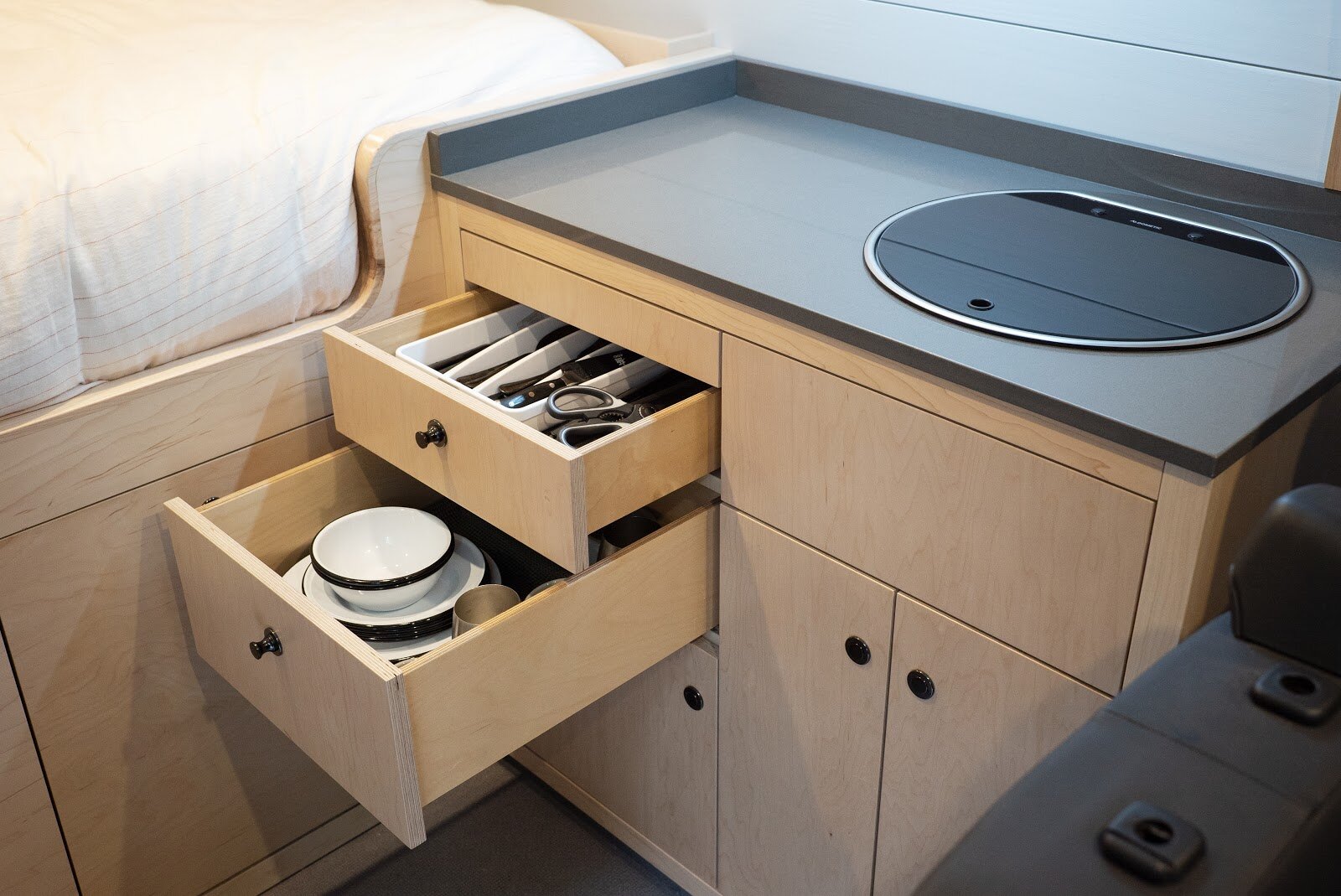 5. Storage
Storage is one of the most important features of any camper van. Cabinetry not only has a major impact on the aesthetic of your van, it is also one of the most critical functional elements. Having ample storage that looks great and works intuitively can make the difference between a good Sprinter van conversion and a great one.
In a camper van, storage is critical because it keeps things out of the way and uncluttered in your small living space. It also serves the purpose of securing loose items while you're on the road. Your cabinets and drawers must feature mechanisms that keep them securely closed while you are in transit, without detracting from functionality and ease of use.
If you're trying to determine the overall quality of a Sprinter conversion, a good first place to look is the cabinetry. If the van's storage is easy to use, seamlessly designed, and thoughtfully laid out, there's a good chance that the builder put the same attention to detail into the other areas of the camper van. Anyone can add fancy gadgets to a van conversion, but few builders have the expertise to craft storage that compromises neither on beauty, nor functionality.